Nokia N95 multimedia slider phone
Yes, it does everything - but is it any good?
---
2007's Top Products It's the Swiss Army Knife of mobile phones: a compact handset that does everything. Music, video, mobile and wireless broadand, photography, satnav, email, blogging, office work, web surfing, messaging - heck, it'll even help you talk to people over long distances. But is Nokia's top-of-the-range N95 trying too hard to be too many things?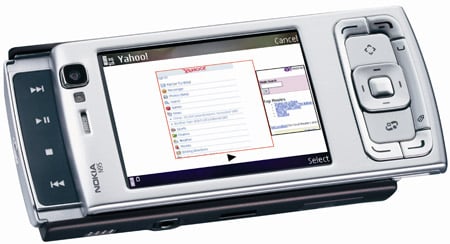 Out of the box, charged up and in your hand, the N95 is a very nice size. The dimensions are 9.9 x 5.3 x 2.1cm, so it's thicker than many a mobile, but unless you've been living with a particularly skinny model for a while, the N95 isn't going to feel uncomfortable. Weighing in at 120g, it's no lightweight - solid, yes; heavy, no.
The phone's frontage is dominated by a glorious 2.6in, 240 x 320, 16m-colour screen, big enough for web browsing to work and with a sufficient colour depth to bring photos and movies to life - more on these features later.
The N95 is a 3G phone, so above the screen sits the customary videocall camera. Alongside that is a light sensor and the earpiece. Below the screen is a typical slider-phone control cluster: five-way navigation key surrounded by not one but two Menu keys, soft-menu buttons, call make and break buttons.
The N95 is silver-look plastic, set in a wraparound burgundy rubber-texture piece. The red sides are home to the two stereo speakers, camera controls, volume rocker switch, MicroSD slot - under, for once, a cover that's easy to open - infrared port and AV output. On the back is the autofocus camera and Carl Zeiss lens under a manually opened cover. You'll find the new, skinny style power socket and a mini USB port on the phone's base.
The numeric keypad is revealed by pushing the screen upwards in the usual slider phone fashion. The keys have a solid action and are raised slightly, making them easy to use one-handed. Entering a text is a quick process. Well, provided you don't make a mistake - the backspace C key is part of the upper key cluster, and I found it a little too easy to hit the call-break button instead, taking me out of the Messaging app back to the phone display.