Mac add-on specialist Sonnet has launched its Tempo Serial ATA ExpressCard in the UK. Aimed at Apple's MacBook Pro line, the card allows laptop users to hook up a pair of eSATA-enabled hard drives.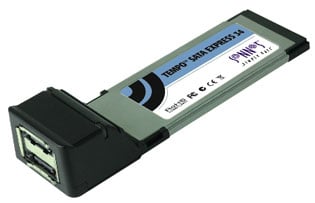 The slimline card contains a 3Gbps SATA controller, though since the ExpressCard slots in MacBook Pros connect via the notebooks's USB 2.0 infrastructure rather than the PCI Express bus - the ExpressCard standard supports both - data transfer is limited to a maximum of 480Mbps.
Still, the card provides a degree of future proofing, allowing you to use eSATA drives now ahead of the inevitable day when Apple introduces a machine with an integrated eSATA port.
The Tempo supports the connection of SATA port multipliers, allowing up to ten drives to be connected. It also works with Mac OS X's own RAID sub-system allowing two drives to be used as one for greater data security.
Sonnet's ExpressCard is available from a range of Mac specialists, including Apple's own online store, for around £120.
Similar topics