We can't imagine this will be up for long, but for anyone who is disenchanted with this thing we call democracy, point your browse over here for a giggle.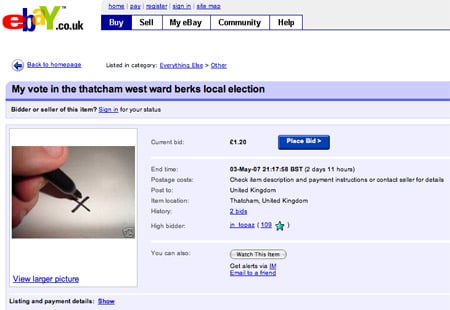 Yes, that's right. Someone is selling their vote in the Thatcham West Ward of West Berkshire (local elections this Thursday, 3 May, for those non-Brit readers).
The seller, who has listed a starting price of a mere £1, says:
I have no idea who to vote for and to be honest I dont really care who wins as your all as bad as each other.

However if you want to buy my vote or rather my TWO votes (acording to my polling card) for the thursday 3 may election then get bidding.

£1 start no reserve I will email the sucessfull bidder a sneaky camera phone photo of me voting for them on recipt of funds.

The auction ends with enough time for me to nip the polling station and cast a vote before 10pm thursday night.

 

No scams ( HAHAHAHAHAHAHA) overseas bidders or ginger politians please
That pretty much covers it, really.
So, anyone wanting to improve their chances of grabbing the reins of power in Berkshire, you know where to go. Don't say we never do anything for ya. El Reg. Staunch defenders of democracy and silly eBay sales everywhere. ®