SXSW Video game god Will Wright thinks his latest creation might do far more than entertain. It may just save the planet.
The agenda laid out by Wright, creator of SimCity and the Sims, today at the SXSW technology, movie and music festival goes beyond ambitious. He's looking for the upcoming game Spore from Maxis/Electronic Arts to help youngsters think about how their actions and the actions of groups of people affect the environment around them. The kind of teaching through experience present in Spore could aid mankind, which is notoriously bad at long-term thinking.
We're not sold on Wright's vision but will present it as told.
Spore looks like an almost certain blockbuster, giving users basically four or five games in one. The software aims to recreate the journey from a one-celled organism cruising through primordial goo to a sophisticated space traveler.
The game does by beginning with a "Pac-Man" style game where the player guides his one-celled creature around, picking up food in the ocean and avoiding larger sea creatures. Once the creature has eaten enough food and the player has demonstrated a mastery of the game's basic commands, the second part of the game begins.
The player creates a new creature using Spore's sophisticated design tools. You say how large the creature is, how many legs it has, what color it is and if you'd like to, for example, give it extra mouths where you might usually expect arms. Once the design is complete, Spore renders your creation and provides it with unique movements and characteristics.
"You can do in a few minutes something a Pixar artist spent weeks creating," Wright said.
Your creature then becomes a land animal and goes through life mating with other creatures, eating and trying not to be eaten. After your creature evolves and builds up intelligence, he eventually starts running the show.
That third part of the game consists of managing an entire planet full of different species and civilizations. Your animals mature, build cities and then gradually craft more complex inventions such as spacecraft.
And that's where the fourth part of the game kicks in when you blast off into space to see all the different worlds created by other Spore users and some automatically generated planets made by the game.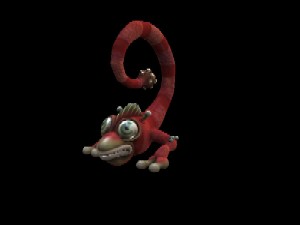 Spore Spud
Players can borrow Spore's design tools to craft very realistic objects such as the spaceship from Star Trek or the Millennium Falcon.
"One of the things I want to see is an interstellar war betweens Care-Bears and Klingons," Wright said.
The game stands as the most ambitious project of its kind to date, but Wright is thinking even bigger.
He believes that children, and potentially adults, will use this world creation as a learning exercise. Wright describes Spore as a "philosophy tool" that will force people to spend extra time "contemplating the meaning of life" or considering the complex workings of civilizations.
You might, for example, be forced to manage a planet battling global warming. Or you might come across other challenges that make you debate real life threats.
"We are so bad at long-term thinking," Wright said, adding that the game might help "recalibrate our instincts."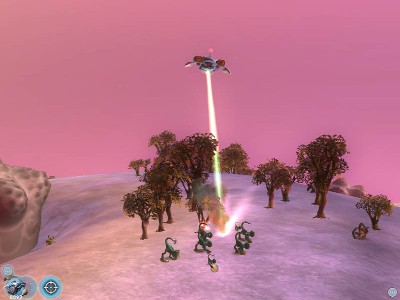 Spore War
"Hopefully, this will allow us to change the world just a little bit for the better," he closed.
Some might consider this kind of talk preposterous. And, as mentioned, we're not sure we buy it.
As presented in demos, however, Spore does look to place higher demands on users than your typical brain-shrinking garbage such as Second Life or for that matter television.
Wright worked to blend elements often found in so-called linear drama such as a movie with his interactive game. Through the process of building your creature and living through its evolution you experience something akin to a character arc and possibly also feel serious emotions for the animal.
Overall, Spore could provide a much deeper experience for gamers and in fact deliver some of the tutelage Wright aspires to.
And we wish Wright luck with his quest no matter how quixotic it might be. The game legend dreams big and more often that not comes close to pulling off his vision. ®