BAE puffs troubled submarines, Spanish export order
A triumph for American engineering
---
BAE Systems, the UK's principal arms firm, is having a good media week in its submarine-building incarnation.
Firstly, the troubled Astute-class project is finally getting some positive press, though it's hard to see why. The BBC notes that three Astute boats are now at different stages of construction and "a huge, red neon sign reminds the workforce the first one is now just 32 days away from launch...it's hard to believe it's going to be ready on time".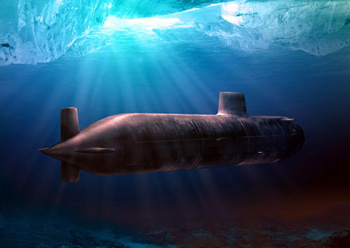 Artist impression of Astute Class underwater
Not just hard to believe, but impossible. Astute missed its chance to be on time quite a while back. The big neon sign at BAE's Barrow plant actually ought to be reading minus 900 days at least, as HMS Astute was supposed to have been launched and delivered to the Royal Navy years ago - as opposed to not even wet yet. BAE has had to reset its counter a few times on this one.
The project isn't just late, either - it's also wildly over budget. Even BAE and the Beeb arms-biz fanboys admit that the three subs are to cost the government an estimated £3.5bn in total; a more realistic figure would be £4bn, as the government must supply certain crucial bits of kit such as the sonars and Tomahawk missile-control systems on top of the sticker price.
It hardly matters, anyway: when the order was placed in 1997, the total "fixed price" was to be £2bn.
Not exactly an engineering success story, then. Actually, not even a case of plucky British engineers having a few hiccups but muddling through in the end - American sub-design experts had to be called in to sort things out when Astute seemed completely on the rocks in 2003-4. Ninety percent of the work was performed in Groton [Connecticut], rather than Barrow.
BAE has suggested that the US assistance was purely a matter of sorting out issues with CAD software, but if this is true it seems odd that an American submarine builder and not a CAD specialist was consulted.
Against this background, it's interesting to note that BAE's Barrow plant has won "its first export work in 20 years", according to a company release last week. BAE will make and weld pressure-hull end domes for the new S-80 Spanish diesel boats, being produced by Navantia.
"The depth of our knowledge and proven track record in submarine technology underpins why Navantia chose to work with us," said BAE's Simon Jones.
"The first two boat sets will be fully welded and completed in Barrow. The last two will be partly assembled and welded in Barrow, with final welding set to take place in Navantia's facilities in Cartagena with support from BAE Systems Solutions as required," according to BAE.
As the contract proceeds then, work and technical expertise will be gradually transferred from Barrow to Spain.
Or, just perhaps, one might say that expertise will be actually be transferred from Connecticut to Spain, with BAE acting as middleman and taking a hefty commission. ®