This article is more than 1 year old
Logitech Alto keyboard and laptop stand
Posture improver?
Review If your laptop is your primary work machine then you'll end up spending a fair amount of time hunched over it - which isn't exactly good for your back, let alone your posture. Logitech's Alto stand allows you to raise the screen up, so it's at a more natural height and also includes a full keyboard for, it claims, better typing.
The Alto is a very neat design - when folded up it measures just 43 x 24 x 3.5cm, which isn't that much bigger than a normal keyboard. Unfold it in the middle lengthways and it stretches back 49cm with a fold up stand at the rear and full QWERTY keyboard at the front.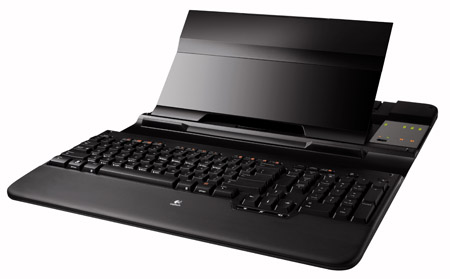 The stand lifts up and clicks into place, creating a platform to hold your laptop that leans back at about 45°. There's a rubber support at the bottom to gently hold the front edge of the laptop, with the base resting on the angled platform. Push back the screen so it's vertical and you're ready to start working.

The keyboard plugs in via USB and the cable is neatly recessed under the stand when it's folded away. There are also three additional USB ports on the stand - two at the rear and one on the right-hand side at the back - so you can plug in a mouse and other peripherals. But this isn't a docking station as such, so other cables and add-ons will need to connect to the laptop as usual.