Given Japan's idiosyncratic personal data protection laws and a current obsession with privacy, these computers offer security against unauthorised access by including a fingerprint reader that can also replace password logins for OS or applications. The USB port can also be locked so that only devices approved by an administrator can be connected and used.


The FMV-U8240's right-hand side
As well as wired Ethernet, the FMV-U8240 sports a built-in Wi-Fi adapter, but I searched in vain for a Bluetooth function. Given that USB, CompactFlash and SD cards are all available, maybe this won't prove too much of a loss, but the ability to use a cellular phone as a modem via Bluetooth or to print wirelessly using built-in hardware seems a surprising omission. On the other hand, there are cellular and PHS adapters available, and public Wi-Fi access is becoming more prevalent in larger cities in Japan.


The FMV-U8240's left-hand side
Battery life is rated at about four hours of use, but an optional high-capacity battery can double that figure.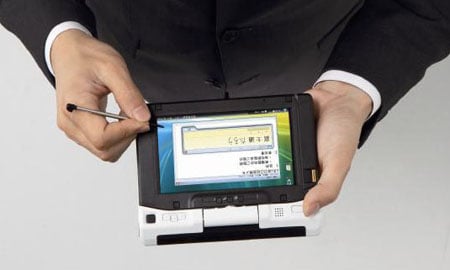 The chipset is Intel's Ultra Mobile Platform 2007 using the A110 processor clocked at a modest 800 MHz - though the slower clock speed does mean that the semi-rubberized non-slip case doesn't get too hot. A 20GB hard disk stores data, and ¥144,000 (just over £600) buys you the model with 512MB of memory and XP installed. For ¥164,000 (£685) you get a full gigabyte of RAM, and this is also the price for the Vista 1GB model.

Fujitsu LifeBook FMV-U8240 ultra-mobile PC
Tiny but useable, the FMV-U8240 is a miracle of micro-computing...
Price:
¥144,000-164,000 (£600-685) RRP