This article is more than 1 year old
AMD 'Griffin' laptop CPU to integrate Turion cores
Power consumption, not processing, targeted
AMD's upcoming next-gen notebook processor, 'Griffin', contains rather a lot of the current generation, the 65nm Turion 64 X2, the chip maker admitted today. This despite Griffin's status as AMD's first CPU designed specifically for notebooks.
Griffin - due to ship late Q4, but probably not in systems you can buy until well into 2008 - packs in a pair of 65nm CPU cores and connects each of them to 1MB of L2 cache - up from the 512KB found in today's AMD laptop-friendly chips - and to a freshly designed Northbridge unit comprising a HyperTransport 3 controller and a memory manager.
AMD Fellow Maurice Steinman told Register Hardware the CPU cores are almost transistor-for-transistor the same cores found in the 65nm Turion processors AMD launched earlier this month.
According to Steinman, much of the work on Griffin centred on revamping the Northbridge elements to improve the processor's energy efficiency. The bandwidth made available by the HyperTransport 3 bus - three times that provided by the current generation - can be dynamically narrowed according to need, and done so asynchronously so that routes into the processor can be temporarily slowed down without affecting outbound traffic.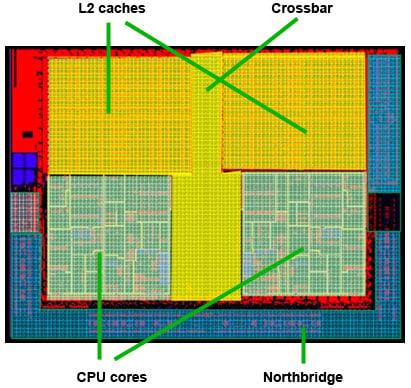 Griffin's dual-channel DDR 2-oriented memory controller features a pre-fetcher to grab ahead of time the data it thinks the processing cores are going to want from memory in the near future. It's also tweaked to work only with notebook-style memory configurations and not the broad array of desktop and server memory options the current Turion line is architected to be able to deal with, albeit unnecessarily.
These Northbridge components and the two cores are all on separate voltage planes, allowing each to run on reduced power when they're not needed. That allows, for example, a chipset-integrated graphics engine to connect through to main memory without troubling the CPU cores, Steinman said. The cores themselves are able to switch frequencies independently and quickly - in microseconds rather than milliseconds - with the ability to fall to a lower base frequency than Turions - they fall to 800MHz, Griffin could go down to 300MHz, he indicated, thanks to a new minimum of an eighth of the maximum.
Alas, Steinman didn't say to what extent all these tweaks will enhance Griffin-based systems' battery life not only over the current generation of Turion notebooks but also when compared to Intel's latest incarnation of Centrino, 'Santa Rosa'.
Nor did he disclose how high the chip will be clocked - expect AMD to make further announcements on this closer to the chip's launch. However, he did confirm that Griffin will be designed to work with AMD's upcoming M780 chipset, which integrates AMD's HyperFlash cache technology.