Belgian politico to orally pleasure 40,000
Senate hopeful's election campaign really sucks
---
NSFW A Belgian senate hopeful is offering voters something a bit more tempting than a one per cent cut in VAT and better rubbish collections - 40,000 free blow jobs to anyone who signs up at her campaign website.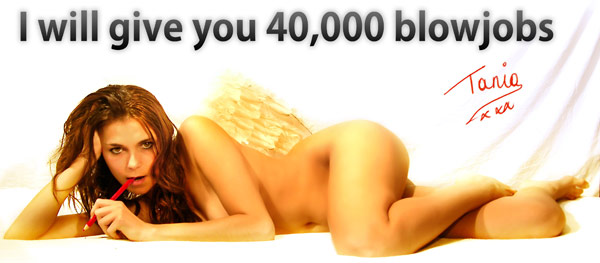 Tania Derveaux represents NEE, an "impartial protest movement running for senate in the Belgian elections of June 10 2007", which "offers voters in Belgium the option to vote 'NEE' if they find that none of the parties deserve their vote".
According to Ms Derveaux, she originally pledged to create 400,000 jobs as a "response to incredible claims that were made by other parties in Belgium". This prompted wags to demand 400,000 blowjobs, which Derveaux has wisely reduced to 40k.
Still, by her reckoning she'll still have to suck like a good 'un for 500 days, servicing 80 hardened NEE supporters a day. We'll save you the trouble: if she puts in a seven-hour shift at the coalface, that means one punter every five-and-a-half minutes - without the benefit of a tea break.
Oh yes, married or shy people can elect to receive their bj in Second Life, so there's little excuse not to get your rocks off.
We can't help feeling that this kind of gums-on approach to electioneering could really take off in Blighty, as long as the Labour Party and the Tories don't put forward Margaret Beckett and Anne Widdicombe, respectively. ®
Bootnote
Thanks to Tony Green for the hard news tip.