The freak waves that smashed into Reunion Island last week were tracked by satellite as they raced across the Indian Ocean.
As many as six people are reported to be missing in the region after the waves demolished several piers in the port of Saint Pierre. Two of the missing are coastguards whose boat was capsized as they searched for fishermen who had been caught in the storm swell.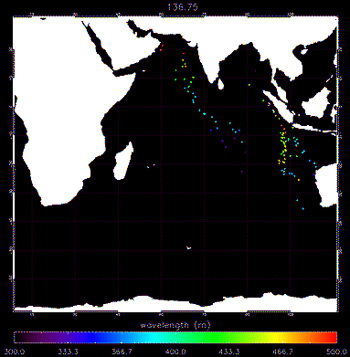 Satellite data from the European Space Agency (ESA) reveals that the swell, which reached as high as 11 metres, originated in a storm off the coast of South Africa, several days earlier.
Dr Bertrand Chapron of IFREMER, the French Research Institute for Exploitation of the Sea, tracked the swell using ESA's Synthetic Aperture Radar (SAR) instrument aboard the Envisat environmental observation satellite.
The instrument can track the so-called wave period. This measurement of the gap between wave peaks is indicative of the size of the wave - the longer period suggesting a larger wave, triggered by a more intense and extreme weather system.
SAR can spot waves with periods of between 12 and 25 seconds, the scientists said, and the wave that hit Reunion had a period of 19 seconds.
Chapron commented: "Swells are still surprise factors, which can unfortunately be deadly. The SAR Wave Mode product allows us to locate and systematically track swells globally. In the near future we anticipate using SAR wave data to predict their arrival time and intensity."
His colleague, Dr Fabrice Collard of France's BOOST Technologies, explained that although the swell was expected to hit Reunion, no one had predicted it would be so large. "[The waves] were predicted to be only a couple of metres," he said.
More from the ESA site here.®
Sponsored: Webcast: Simplify data protection on AWS