TV enabled handsets will reach a staggering 244 million devices by 2011, according to a new report.
This is almost double the number previously forecast, and was reached by a detailed look into the likely mobile TV launch dates and the uptake rate expected in 55 countries.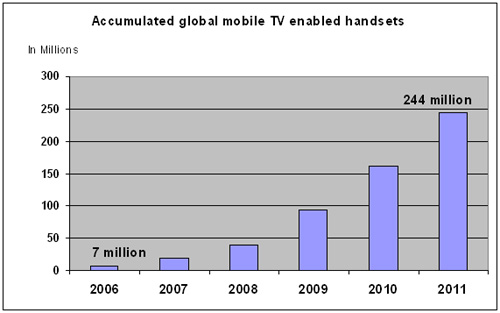 The report was published in the US by Multimedia Research Group, but was written by Rethink Research Associates in the UK. It shows the rapid increase anticipated in handsets annually, with huge leaps during 2009 especially (see graph below), when 53 million broadcast TV enabled handsets are expected to ship.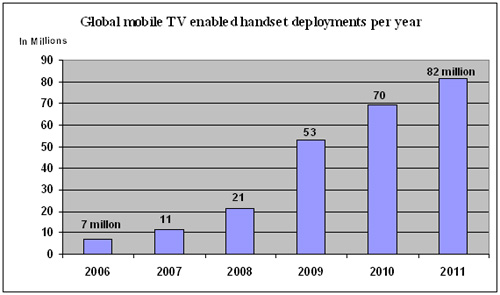 "There are over 80 mobile TV trials all over the world and already there are a handful of services launched. The bulk of those trials are already committed to turn into genuine services, in some cases with a nationwide footprint, in other countries in limited regions," said report author Peter White, principal analyst at Rethink.
"This forecast is not including video services which are streamed over a cellular network, because that has largely been a slow burn business, due to its low screen resolution and the careful management it needs so that it doesn't interfere with voice. Most of these new handsets will deliver QVGA quality screens, where voices and lips are synchronised, where there is no shadowing on the screen, and where the resolution is good enough to watch for 30 minutes at a time and beyond," White said.
Initiatives in Japan and South Korea have been launched for some time using technologies which are largely unfavoured in the rest of the world, but last year Italy launched two DVB-H based services and now Qualcomm's MediaFLO is aggressively going after the US market with deals that take in Verizon Wireless and AT&T as resellers.
Around 80 pilots have been carried out globally and the trickle of current services will reach a torrent of some 50 to 60 services during 2009, led by developments in China and Asia Pacific, where the report says 105 million handsets will ship. It says this will be followed by strong showings in Western Europe and the US, which will ship 73 million and 40 million mobile TV capable handsets by 2011 respectively.
According to the report, service revenues from the global mobile TV market will exceed $24bn annually by 2011, with Western Europe likely to lead in revenue terms at over $10bn, followed by the USA and Canada at $7.7bn, and China and the Far East lagging at $5bn, despite higher usage levels. ®
Similar topics