Poll result It's official: by overwhelming popular demand, Norman Tebbit will replace Elijah Wood as Iggy Pop in forthcoming biopic The Passenger.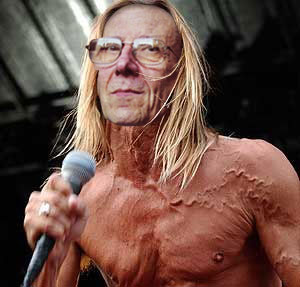 To recap, we last week ran a poll to decide a suitable alternative to the Hobbit taking the lead in the $8m project, slated for release in 2008. To be honest, we weren't convinced that Wood could carry off Pop, and asked you to select an alternative.
Well, Tory grandee Tebbit walked away with it, attracting 78 per cent of the vote - a whopping 21,643 - roundly thrashing runner-up Bernard Manning who polled just 4,033. Third spot went to the highly-talented Paris Hilton (376 votes), but since she's got a pressing engagement at an LA correctional facility, we doubt she'd be available anyway.
And just to show how convincing Lord Tebbit would be belting out Lust for Life, we offer here our artist's impression of how we believe Norman Pop might look. Spooky. ®
Bootnote
Since our IP address-tracking multiple vote blocker was disabled for this poll, we suspect Conservative Central Office might have had a hand in the result. Mr Cameron, you ought to be ashamed of yourself.