This article is more than 1 year old
RIM BlackBerry Curve 8300
Dial C for Consumer
Review There's a new addition to the BlackBerry line up, to slot neatly in between the Pearl and 8800. The Curve 8300 features a full QWERTY keyboard, but without making the unit overly large. It's certainly more consumer-focused than the 8800, but that doesn't mean it can't turn its hand to business when the time comes.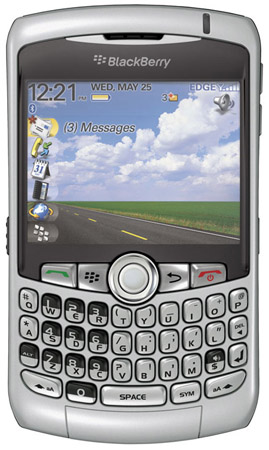 The rounded design of the Curve makes it pleasant to hold and it's small enough to use single-handed if you're just doing it bit of surfing. But it's not so tiny that using two hands feels cramped. The trackball, as per the previous models, is great - an intuitive and natural device to find your way around the interface and web pages. You can navigate up, down, left and right with the single control, and to make a selection you simply press on the ball. The usual layout of menu key and back button sit either side of the trackball with green and red call start and end buttons outside those.
The bottom third of the unit is occupied by the QWERTY keyboard. The keys are bevelled slightly, which helps avoid the problem of pressing more than one at the same time. Despite the small size, with a little practice you can attain a decent typing speed - certainly good enough for responding to email or composing text messages. At the top is a bright and clear 2.4in screen with a 320 x 240 resolution and the ability to show 65,000 colours.
Size-wise, it's not that much bigger than the Pearl - it's obviously wider, but it's only slightly thicker and about the same height: 10.7 x 6 x 1.6cm. The additional width makes it feel a little unnatural when using it as a phone at first, but it doesn't take that much getting used to. It weighs a light-on-pockets 111g.
The software has been tweaked slightly, but it's not drastically different to that seen on previous models. One nice new addition is built-in spell check, so you can ensure your emails aren't riddled with errors before they go out.
The Curve has a strong consumer feel to it. For example, it features beefed up multimedia capabilities. So, you can now play back video full screen, and RIM has helpfully thrown in some software - Roxio Media Manager - for converting video into a suitable format to play on the device. However, the results weren't fantastic, with some converted files exhibiting lip sync problems, which was annoying.