This article is more than 1 year old
RIM BlackBerry Curve 8300
Dial C for Consumer
The Curve can handle iPod-compatible video files without the need for conversion, which is a plus given that it's probably the most readily available format of portable video files on the internet.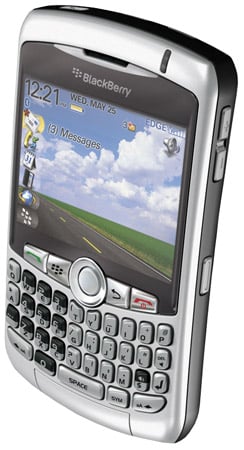 Support for A2DP (Advanced Audio Distribution Profile) is included, so you can stream stereo audio to a compatible Bluetooth headset - although for some reason this only seemed to work for music, not videos. Music tracks would quite happily play back through a headset, but as soon as a video file was selected the audio reverted to the built in speaker instead. No amount of tweaking stopped it from doing this.
If Bluetooth seems a bit too swish - or battery draining - for your liking then there's a wired headset in the box. Don't expect stunning fidelity from it, though: bass was distinctly lacking and if you push the volume too high it starts to distort. Thankfully, there's a standard 3.5mm jack on the side so you can plug in a better set of headphones, although you'll lose the ability to make hands-free calls as well if you do this.
RIM has beefed up the Curve's camera to include a two-megapixel sensor. Results in well-lit surroundings or daylight were fine, but it struggled with noise in darker environments. There's a flash to help compensate for this, although it does tend to over-saturate the subject if you take pictures too close up.
The Curve supports the standard BlackBerry email services. New messages are pushed to the device so there's no need to manually check to see what's arrived - it just appears as if by magic. There are two options available: BlackBerry Internet Service and BlackBerry Enterprise Server - the former's the one for consumers and individual business people, tying in to existing email accounts.