This article is more than 1 year old
RIM BlackBerry Curve 8300
Dial C for Consumer
The Curve's call quality was a little disappointing - while it was still possible to make out what the other party was saying, it didn't sound as clear as, quite frankly, it should have done.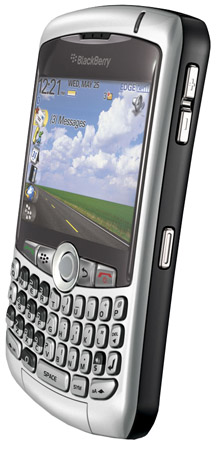 A copy of BlackBerry Maps is included, although there's no built in GPS receiver. Map data is downloaded as it's needed, rather than stored on the device, so unless you've got an unlimited-airtime data account you could run up a hefty bill using it. There's obviously a short pause while downloading map information, but the application seemed slow to redraw maps even when it didn't need to get more data. Scroll around and it can take about a second for the formerly off-screen area to appear on the display.
The Curve is a quad-band (850/900/1800/1900MHz) handset, with support for GPRS and Edge, and comes with 64MB of memory. You can add additional storage through a MicroSD card slot, although it's annoyingly positioned underneath the battery.
The handset charges through its mini USB port - handy if you're on the move with a laptop, particularly given the bog-standard but unimpressive four hours' talktime you get out of it, though you'll fare rather better if you reserve your Curve for email.
Verdict
The Curve is a well thought out consumer BlackBerry with a texting-friendly full QWERTY keyboard. Like its siblings, it still lags a little on the multimedia side of things, but it's getting there. But it excels with email.

RIM BlackBerry Curve 8300
Email-tastic but could do better when it comes to media playback
Price:
From free, depending on contract RRP