Over-achieving Mars rover Spirit has literally uncovered new evidence that Mars used to have a much wetter climate, thanks to a dodgy wheel.
Spirit has been on Mars for much longer than mission planners had ever hoped, and is beginning to show its age: one of its six wheels no longer rotates, instead dragging a deep furrow behind the rover as it limps across the Martian surface.
But this has meant researchers have had unexpected access to below surface samples of Martian soil. And it is from one of these samples that this discovery has come.
The rover analysed a patch of the soil it had ploughed up. It turned out to be 90 per cent pure silica. According to NASA, the processes that could have created such a high concentration of silica all "require" water.
According to the rover team, possible mechanisms for the creation of the silica include the soil interacting with the kinds of acid vapour that would be produced by volcanic activity in the presence of water, or water in a hot spring environment.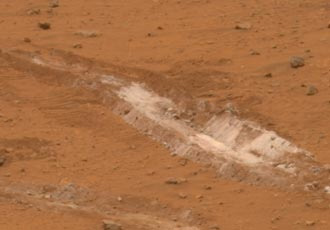 The rover team made the announcement on a teleconference to discuss the results of the alpha particle x-ray spectrometer. According to Steve Squyres of Cornell University, principal investigator for the Mars rovers' science instruments, "you could hear people gasp in astonishment".
"This is a remarkable discovery. And the fact that we found something this new and different after nearly 1,200 days on Mars makes it even more remarkable. It makes you wonder what else is still out there," he said.
This is not the first evidence of a wet Martian history that Spirit has found, but it is the most compelling, and suggestive that an earlier Mars might well have been hospitable to life. Earlier discoveries have included patches of water-bearing, sulphur rich soil, alteration of minerals, and evidence of explosive vulcanism. ®
Similar topics