Alactel Mobile Phones' latest - the 1970s-sounding GlamPhone - is sponsored by womens' fashion mag Elle, so guess what, Reg Hardware told yours truly to go and watch this "glamorous icon of the season" strut its stuff.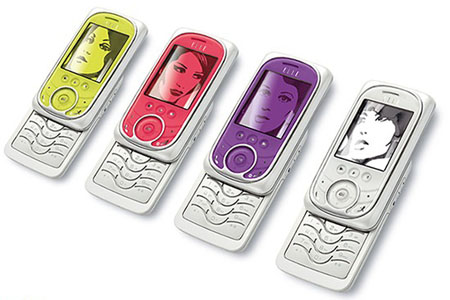 Alcatel GlamPhone Elle No.3: what, no pink? no frills?
Despite its name, the GlamPhone isn't all sparkling silver, colour flashes and platform soles, but a sleek slider decked out in what Alcatel claimed are "this summer's most popular colours". No pink, thank god, but white, purple, red and a yellow-green hue the TOYboy describes as 'flat lager', but I like to think of as 'baby poop'.
Actually, yes, since this is a ladyphone, there is a pink model, but thankfully Alcatel had the good taste not to show it. OK, class, maths lesson. Repeat after me...
PINK + TECHNOLOGY does NOT equal WOMAN-FRIENDLY PRODUCT
Got that? Good. Remember it - there will be a test at the end of term.
Actually, I'll be examining your linguistic skills too, Alcatel. Question one, what's wrong with the following sentence: "Compromising of both stylish, feminine handsets and the latest mobile phone accessories the GlamPhone collection is certainly not to be missed."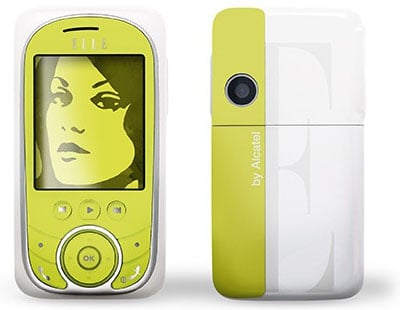 Alcatel GlamPhone Elle No.3: baby poo is soooo 2007, daaaalings...
The GlamPhone comes with what Alcatel styles a "Bluetooth Jewel". Good, I thought - sparklies! Alas no, because despite the flurry of exclamation marks proclaiming the add-on as an "exclusive accessory", this "Bluetooth jewel" turns out to be a steel "charm" attached to a black necklace. It's a bit Camden Market if you ask me, but is cunningly shaped to take hold of your Bluetooth earpiece should you feel a wally walking around all day with it in your ear.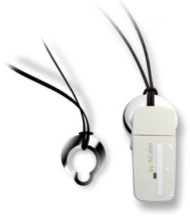 Alcatel's 'exclusive' Bluetooth 'jewel'
"Never been seen before", the phone will nonetheless "surprise you once again" with its 176 x 220, 262,144-colour display and 1.3-megapixel camera - hardly state-of-the-art. Neither is the measly 12MB of memory, though you can slip in a MicroSD memory card for more. Bluetooth 2.0 is more moderne, and the handset's battery is rated at a reasonable six hours' talk time. The handset is a tri-band affair.
Alcatel said the handset will be pret a porter in June, but it won't yet say which retailers will stock it.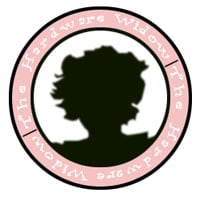 The Hardware Widow is hitched to a younger geek who thinks he knows more about technology than she does...
The Hardware Widow on...
Sony Ericsson's 'nature-inspired' handset
Moto's empurpled imperial RAZR
Motorola teases Hong Kong girls with gilt-y pleasures
Philips' Swarovski-encrusted earphones
Samsung's Ultra Edition Part Deux
Asus' lacquer'n'leather luxury laptop