Oh for the life of a sub editor. It must be the most thankless task: people only notice you when you don't do your job perfectly. And when it comes to spelling and grammar, someone can always be relied upon to notice.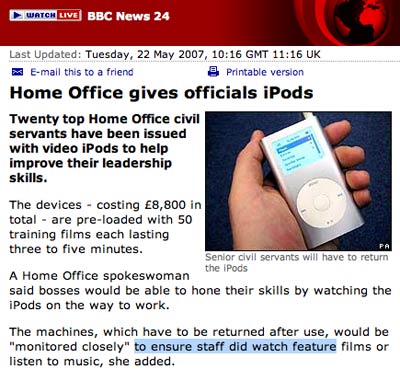 But it is also a position of incredible power, which must occasionally be wielded.
Take, for instance, the BBC's report that the Home Office has issued video iPods to its 20 most senior officials, to "improve their leadership skills".
The idea is that the civil servants will get to watch 50, three-to-five minute long training videos which are preloaded onto the iPods, thus improving their skills on the daily commute. Total cost to the taxpayer? Including content, somewhere in the region of £8,800, the Home Office says.
Clearly, the sub editor at the BBC was struck but the utterly obvious nonsensical nature of this idea, and so struck a blow for the forces of good by removing the word "not" from a Home Office spokesperson quote:
A Home Office spokeswoman said bosses would be able to hone their skills by watching the iPods on the way to work.

The machines, which have to be returned after use, would be "monitored closely" to ensure staff did watch feature films or listen to music, she added.
Or perhaps the secret good-doer was actually at the Home Office itself, and tweaked the spokeswoman's statement before it was sent out, and the BBC is happily reporting it verbatim.
Either way, we would like to extend a hearty congratulations to this unidentified hero. Well done, Sir or Madam. We salute you.
It is also possible, of course, that the Home Office would like to make sure that its top bosses are watching enough prime time TV and checking in on the charts from time to time. If that is the case, then we recant this entire article, and apologise profusely to any and all sub editors we may have offended. ®