Dell's latest gaming system has moved out from under cover brandishing an Intel Core 2 Extreme QX6700 processor overclocked from 2.66GHz to 3.46GHz, a freshly designed liquid cooling system and a Blu-ray Disc drive.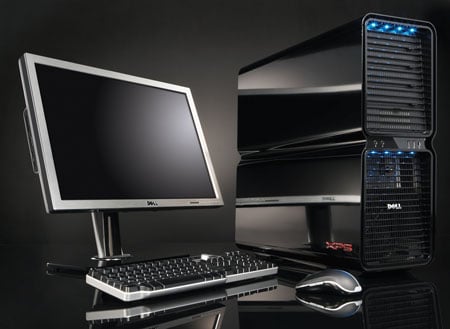 Dell XPS 720: out of the shadows
Superior firepower? It'd better be for the $5999 Dell wants for the XPS 720 H2C Edition - the 'H2C' refers to the machine's "patent-pending, two-stage liquid H2C Ceramic cooling technology".
The unit also comes with 2GB of 800MHz Corsair Dominator DDR 2 memory overclocked to 1066MHz; a pair of 160GB 10,000rpm 3Gbps SATA hard drives; a pair of Nvidia GeForce 8800 GTX graphics cards, each with 768MB of video memory; and a Creative SoundBlaster X-Fi XtremeMusic sound card.
Oh, and there's a 16-colour, eight-intensity LED lighting rig built in for the boy racers out there.
Dell said punters can buy the machine with Windows Vista Home Premium, but it's also offering the box with Windows XP Media Center Edition, which should please gamers and content creators concerned about the state of Vista drivers.
Dell said US residents can buy the 720 now - Europeans will have to wait a few weeks.
Similar topics