Madchester 2.0
But will Tony Wilson reform a virtual New Order?
---
The city of Manchester has been virtually recreated in Second Life presumably complete with grey, rainy skies and baggy-jeaned locals.
Manchester legend Tony Wilson has joined in to help promote the city web 2.0 stylie and will be hosting the first ever awards ceremony in Sadville. Lucky him.
Wilson, who was portrayed by Steve Coogan in the film 24 Hour Party People, founded Factory Records which was home to the likes of Joy Division, Happy Mondays and A Certain Ratio.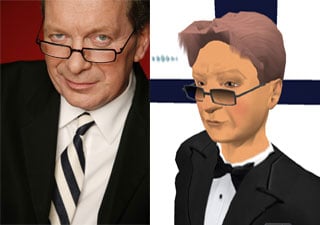 Spot the real Tony Wilson
He has been recreated as an avatar so he can simultaneously host the Big Chip Awards - the North West of England's annual digital back-slapping awards ceremony - as a real person and a, er, not so real person.
The whole thing will be beamed live from New Century Hall in Manchester tomorrow night and a virtual stadium has been "erected" in the seedy, 3D paradise especially for the event.
Talking about the live awards ceremony being shown on Second Life, chair of Manchester Digital Shaun Fensom excitedly said: "As far as we know this is a world first."
Local firm Clicks and Links designed much of Manchester Second Life, including Wilson's avatar.
Sadville residents will be able to wander round famous Manchester landmarks including Urbis and The Printworks with other well-known places being added over time.
Whether they can expect to bump into the digital likes of The Smiths, New Order, and The Stone Roses was unknown at time of going to press.
Oh, Manchester, so much to answer for. ®