Elgato Turbo.264 H.264 encoder
Vroom, vroom
UK-first review Apple TV and iPod. Sony PlayStation Portable. Different devices, but united in common support of the H.264 video compression technology, part of the MPEG 4 standard. And since a lot of us own these, the need for H.264-encoded content is high. The snag: it takes a heck of a lot of processing power to produce.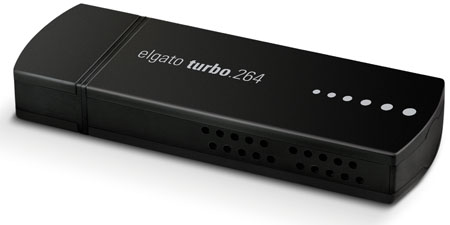 Elgato's Turbo.264... the hardware
Enter Turbo.264, a dedicated H.264 encoder made by Mac TV tuner specialist Elgato. The size of a large Flash drive, Turbo.264 plugs into a free USB 2.0 slot ready to take over H.264 video encoding from the host processor.
While a Mac's CPU is a great general purpose number cruncher, the chip on the Turbo.264 was designed to do nothing but churn out H.264 video. It's a specialist to the Intel Core chip's jack-of-all-trades, and that should make it much faster. That's the theory - does it work in practice?
Installation is simple. Plug in the USB stick and drag the Turbo.264 application off the accompanying CD. The first time the app is launched, it automatically installs the necessary QuickTime plug-in code to link the multimedia software into the Turbo.264 hardware, and after a quick, optional registration process you're ready to encode video.
The connection to QuickTime means that the Turbo.264 is accessible by almost any application that uses Apple's multimedia software to encode video, not just Elgato's own - Turbo.264 shows up in iMovie, for example. Content is decoded then re-encoded by the Turbo.264, so any format QuickTime understands, even via a third-party plug-in like Flip4Mac's WMV add-in, can be converted into H.264 format. If the Turbo.264 isn't connected, you'll be told to slot it in.
The Turbo.264 application adds some formats of its own, such as the ability to drag a DVD's video_ts folder over and convert its video contents, provided they're unencrypted, of course. In practice, that means ripping the disc first, but at least the conversion to H.264 should be faster.