Elgato Turbo.264 H.264 encoder
Vroom, vroom
Elgato's software provides four pre-sets for conversion: iPod-oriented settings for 640 x 480 and 320 x 240 video; a PSP setting that essentially matches the 320 x 240 iPod output, but also generates a 160 x 120 thumbnail image; and an Apple TV option that encodes at the native resolution of up to 800 x 600, downsampling larger content to that size but keeping anything smaller at its original size. The level of acceleration depends on the size of the output.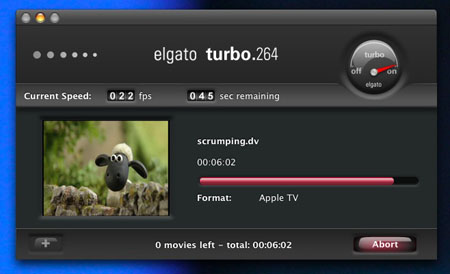 Elgato's Turbo.264... the software
Turbo.264's is a classic Mac app in that it's intuitive to use and removes as much complexity from the process as possible. Drag one or more movies files onto it, and each is listed in the order they'll be converted, with a encoding pre-set pop-up alongside each. Click on Start and you're away.
A speedometer-like indicator at the top reminds you that the Turbo.264 hardware is plugged in or not - handy if you use a desktop Mac and you can't see its USB ports. During the encoding process, there's a time remaining and frame rate readout to complement the usual bar.
To try the Turbo.264 out, we took a six-minute standard definition PAL DV file - size: 1.22GB - and encoded into H.264 in each of the four formats the Turbo.264 app provides. We also converted the same file to match the settings used by the Apple TV formatter, this time with the Turbo.264 unplugged and using the freeware app, MPEG Streamclip 1.8.
Next, we ripped a DVD and encoded the contents first using Turbo.264 then using the popular freeware MPEG 4 encoder HandBrake 0.8.5b1.
All the tests were carried out on a 1.83GHz Core Duo-based MacBook Pro with 1.5GB of memory.