Elgato Turbo.264 H.264 encoder
Vroom, vroom
Pulling a standard-definition MPEG 2 movie of 1h 55m 58s duration straight off a DVD took Turbo.264 28m 23s to rip and convert to its iPod Standard pre-set. Setting HandBrake to match Turbo.264's settings - 320 x 240 resolution, 128Kbps 48kHz AAC audio, 768Kbps encoding rate, 30fps - ripped the same video and saved it as an H.264 file in 59m 33s, a little more than twice as long.
More up-to-date Macs than mine will see a smaller differential, but while processors are improving, it's still going to be some time before the Mac's own CPU can match the Turbo.264's encoding speed. And the Elgato product costs a fraction of the price of a new Mac.
Converstion to H.264 also produces files a fraction of the size of the original, from 1249.3MB (1.22GB) down to 136.9MB in the case of the Apple TV pre-set and even 31.1MB with the iPod Standard setting. That makes the Turbo.264 handy for folk who've digitised their old VHS tapes for burning to DVD and would like to keep less drive-stuffing back-up copies.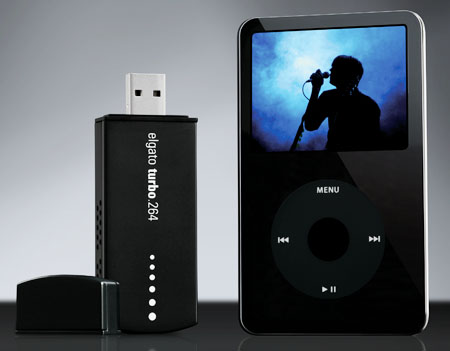 Elgato's Turbo.264... and friend
The only flaw with Turbo.264? It's a Mac-only product. Elgato's cagey on Windows support - it might happen, it might not. If it doesn't, there's always ADS' Instant Video To-Go, or apps that make use of the host PC's graphics card to process the video data.
Some users may also find the lack of flexibility irritating. To keep its app user-friendly, Elgato hasn't equipped Turbo.264 with custom compression settings, but an Advanced... section would surely have been easy enough to add. Maybe it will do so in the near future. While the Turbo.264 is so clearly aimed at consumers, video pros are likely to find it handy too, and as they provide feedback to Elgato, I'd expect it to start adding more pro-friendly features.
And there are plenty of devices in addition to the PSP, iPod and Apple TV that can play back H.264 files. Their owners should check out the Turbo.264 too.
Verdict
A couple more CPU generations and the Turbo.264 will be redundant, of course. But why wait three or four years for H.264 encoding speeds you can have right now, for a fraction of the price of a new Mac? And the results speak for themselves: Turbo.264 pumps out iPod, PSP and Apple TV-friendly video in a fraction of the time your Mac can. If you use one of these devices for video, Turbo.264 is a must-have.

Elgato Turbo.264 H.264 encoder
Triple your Mac's video processing power for 50 quid. Bargain...
Price:
€99.95/$99.95 (£51) RRP