This article is more than 1 year old
Robot gunships join US Army
Airwolf cyber-copters ready next year
The march of the killer droids continues, with news that a US robot helicopter gunship has passed a significant milestone - engine testing.
This success means the robot can head for production - once avionics and sensors arrive. The cyber-copter in question is the RQ/MQ-8 vertical takeoff and landing tactical unmanned air vehicle (VTUAV) commonly known as "Fire Scout".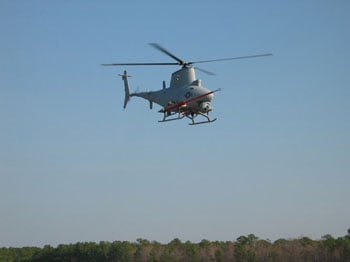 Fire Scout MQ-8B UAV makes its first flight in St Inigoes, Maryland.
The Fire Scout is a heavily modified small commercial 3/4-seat chopper, the Schweizer 333. The cockpit for outmoded flesh pilots has been removed and replaced by robo control and sensor systems, and an extra rotor blade added in order to achieve more lift. As it now stands, the Fire Scout can stay up for eight hours with just sensors and a targeting laser, or five hours with a load of weaponry in addition.
The robo-gunship can pack a fairly impressive arsenal for a small aircraft, including 70mm Hydra rocket pods or Hellfire laser-guided missiles. It truly is a flying robot, not a remote-controlled aircraft; Fire Scouts have made autonomous trial landings aboard US warships underway at sea, without any pilot guidance.
In early 2002 it appeared that Fire Scout might be axed, but within a year it was back on the Pentagon shopping list. This might have had something to do with the fact that a Predator fixed-wing killbot scored a big war-on-terror goal over Yemen in November 2002, blasting al-Qaeda bigwig Qa'ed Sunyan al-Harethi's Toyota to smithereens with a Hellfire missile.
Whatever motivated the US defense department's change of heart, it was comprehensive. Fire Scout is now proceeding apace, and reports suggest that the US Navy may deploy up to 200 of the drone whirlybirds beginning as early as 2008. The Navy armed variant - an MQ killbot as opposed to a mere RQ spybot - first flew last December.
The US Army also fancies the Fire Scout, and it is the Army version which is in the news now, having completed assembly and carried out successful engine tests yesterday, according to a company release. The land-based robocopter can be towed behind a Humvee on a trailer as part of a US Army division's specialist units, then launched over the battlefield to do recce, attack, comms relay, or whatever. There has been talk of using it to carry mine and roadside bomb detection kit in Iraq.
It seems the Merseyside police, whose comparatively crappy little electric spy-bird has just commenced trials, will be sick with envy at the American squaddies' robotised Blue Thunder/Airwolf lookalike. Still, the Scouse aerial robo-plod does have whisper mode. ®