Review Hitachi's 'world's first' 3.5in terabyte desktop hard drive looks much like any other hard drive currently available, but it packs in five platters and ten read/write heads for an exceptional data storage capacity.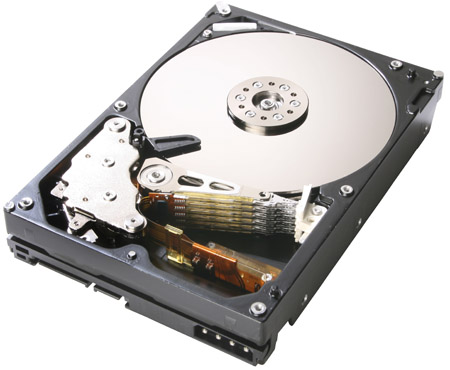 In the event you don't want or need an enormous amount of storage, you can still buy a Deskstar 7K500 between 320GB (£50) and 500GB (£110), so the pricing of the new drives falls in line with the existing products. That's a pleasant surprise as you usually get hit with a premium for buying the latest and greatest. However, the 7K1000 is still twice the price of many 500GB models.
Incidentally, there's a second, 750GB model in the 7K1000 range that's £70 less, if you feel the £225 1TB model too pricey.
The 7K1000's specification is fairly predictable: the platters spin at 7,200rpm, there's a 3Gbps SATA interface and, like all high-capacity hard drives these days, the platters uses the perpendicular magnetic recording technqiue to cram more media into every square inch. From here on in the surprise will come when a new drive doesn't use perpendicular.
Hitachi has increased the cache to 32MB, which is probably cheaper than buying a 16MB chip these days, but more cache doesn't improve performance. Rather it ensures that there is no bottleneck in performance. The 7K1000 supports Native Command Queuing (NCQ) as any good SATA II drive should. There's an old school four-pin Molex power connector next to the two SATA connectors.
On the face of it, the only obvious change from the previous-generation 7K500 to 7K1000 is the capacity increase, but there are other, more subtle changes if you know where to look. Download the HD Feature Tool utility, which is a .EXE file that self-extracts to create a bootable floppy. Start up off this disc and you can configure the drive, with options to enable SMART and limit the capacity of the drive, and you'll also see an option for Automatic Acoustic Management (AAM).
AAM is a slider control with Quiet at one end and Performance at the other. The difference between the two extremes is slight, but measurable by monitoring the drive's noise levels and performance. You'll also see a difference in the 7K1000's power draw. Our review unit was set up for performance, though retail units and drives pre-installed in PCs may not be. Even on a peformance settings the noise levels were still incredibly low. Forget about the 29dBA noise level at idle as all drives are quiet when they're not working but instead focus on the 32dBA seek noise level.