This article is more than 1 year old
Strange spoofing technique evades anti-phishing filters
Targets include PayPal, eBay and others
A Reg reader has produced screen shots that demonstrate a powerful phishing technique that's able to spoof eBay, PayPal and other top web destinations without triggering antiphishing filters in IE 7 or Norton 360. Plenty of other PayPal users are experiencing the same ruse, according to search engine results.
Matty Hall, a London resident who runs a nightclub and record label, says he's been careful to practice good PC hygiene. He runs Norton 360 and uses the latest IE version, which Microsoft has taken pains to lock down with a variety of safety features, including one that alerts users when they visit many spoofed sites. He's also careful to examine the certificates that accompany financial sites he visits before logging in to them.
So Hall was surprised recently when, after attempting to log in to a PayPal page that both IE and Norton had given a clean bill of health, he was prompted for his date of birth, social security number, mother's maiden name, credit card details and other sensitive information. Aside from the verboten solicitation for so much detailed information, about the only thing that looked suspicious was the poor grammar and awkward syntax of the accompanying text. It read:
"We have noticed an increasing fraudulent activity recently. In order to provide your security and protect you from fraudsters we have introduced a new system of identification that will help us to avoid any kind of fraud or unauthorised access. Please enter as more information as possible to provide your complete identification and to activate all the features of the new system." (Screenshot below)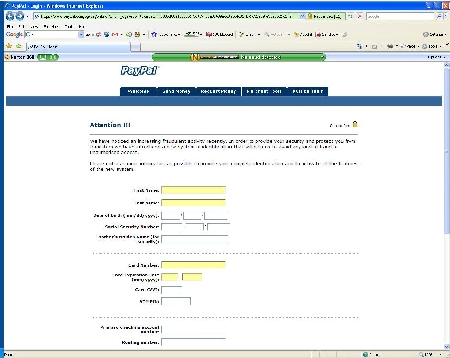 Click to Enlarge
Hall said he's used Norton and AdAware to scan his machine and neither program has turned up any malware. He doubts his DNS has been hijacked because the problem only occurs when he uses IE. He can log in just fine using Firefox.
Hall is by no means alone. A Yahoo search shows plenty of other PayPal users experiencing the same scam.
It would appear the scam method isn't limited to PayPal, either. Hall has supplied screen shots of something very similar happening when he used IE to log on to his online account at HSBC (see screen shot below), and he says he also experiences variations on that theme when trying to access accounts on Barclays and eBay.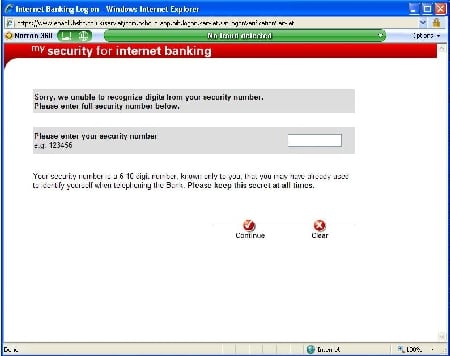 Click to Enlarge
"There is some malicious infection on my machine regarding IE 7, which Symantec hasn't worked out and Microsoft hasn't either," Hall surmises.
A Symantec spokeswoman says company researchers are looking in to the matter. We left messages for representatives of eBay and Microsoft late on Thursday, but had not heard back at the time of writing.
Based on our description, Roger Thompson, who tracks web exploits for Exploit Prevention Labs, guesses those experiencing this attack have inadvertently installed an html injector. That means the victims' browsers are, in fact, visiting the PayPal website or other intended URL, but that a dll file that attaches itself to IE is managing to read and modify the html while in transit.
Says Thompson: "It's very clever and I suspect it's a lot more common than people think." ®