Son of Star Wars test aborted
Target missile doesn't make target
The latest test of the Pentagon's controversial space ICBM interceptors has been aborted after the target failed to work.
The target rocket took off from the launch site in Alaska on Friday, but according to the head of the Missile Defence Agency, it "did not reach sufficient altitude to be deemed a threat, and so the ballistic missile defense system did not engage it".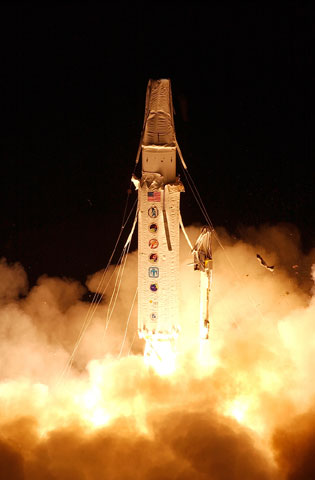 STARS target rocket taking off from the launch site in Alaska
The rockets used to simulate enemy ICBMs in Missile Defence tests are assembled by Sandia National Labs, using surplus Polaris first and second stages with a commercial Orbus third stage. Polaris was the original American submarine-launched ICBM, dating from 1955, and went out of US service in the early 80s. The obsolete rockets are "refurbished" for use as Strategic Targets System (STARS) clay pigeons by Missile Defence, but it's perhaps not surprising that such an old bird has suffered a mishap.
The test has been widely reported as a failure for the Pentagon's Missile Defence Agency (MDA). Many Reg readers have also suggested that previous postponements due to bad weather at the Kodiak Island target launch site indicate a lack of puissance on the part of the missile shield. It's important to note that the only weakness exhibited by the postponements and Friday's aborted test is in the targets, not the defences.
Even so, the MDA will no doubt be smarting somewhat. This was the first test where operational interceptor systems rather than protoypes were to have been used. It would have been a useful demonstration of the space-interceptor kit's viability, if successful.
Riki Ellison, of the Missile Defense Advocacy Alliance, told Reuters that "we need more demonstrations of the capability and this just delays this".
Reuters also quoted the MDA's spokesman Rick Lehner as saying that the retread Polaris' unplanned plunge into the Pacific "reinforces the need" to deploy mid-course interceptors in Poland.
Lehner reportedly suggested that missiles launched by Iran could similarly go astray and land in Europe, even if Europe was not Iran's target.
If that's what Lehner actually said, he would seem to have wandered off his script just a tad. It's reasonable enough to suggest that a Shahab/Taepodong ICBM might take off from Iran aimed at the USA and suffer a defect causing parts of it to crash in Europe. However, it isn't terribly plausible that the missile warhead(s) would function as designed in that event. And exactly how mid-course interceptors - designed to stop ICBMs outside the atmosphere - based in Poland would help in such a case is even less apparent.
What does seem clear is that with funding for the initial interceptor deployment in Eastern Europe struggling to make it past Capitol Hill, the MDA will be wishing it had some more reliable ICBM targets to hand. ®