Column Over the past couple of months, the British public have been subject to a widespread poster campaign, imploring them to join the "Information Revolution".
Posters have appeared in train carriages, buses, and restrooms, plastered in self-consciously militant leftist graphics, demanding freedom of expression and choice. Initially, the posters appeared with no indication of who was behind them, perhaps in the hope that some would be sufficiently naïve about advertising finance to believe this was a genuine guerrilla movement. Sadly not. It is just very naïve guerrilla marketing.
The instigators came out of the bushes a few weeks ago. To the surprise of nobody, it turned out to be one of Google's competitors. Ask.com is one of the many search engines that has been pushed to the margins since Google came to dominate the web in the late nineties. Ask.com believes that a single dominant search engine threatens the cosmopolitanism of the public sphere, citing Karl Popper's notion of the "open society" as the best basis for building new, more inclusive norms for the digital age. Oh all right, they don't. But they'd quite like a few more click-throughs.
The Information Revolution campaign betrays an innocence about the twenty-first century economy that is both embarrassing and dumb. Let's take embarrassing first.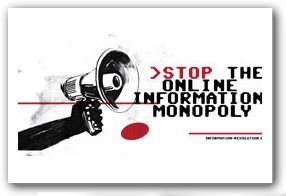 You say you want a revolution
When Thomas Frank coined the phrase "the conquest of cool" in his 1997 book of the same name, he was referring to the way radical ideas, icons, and movements were being co-opted into the advertising strategies of multinational companies. Companies like Nike and Apple invited people to stand out from the crowd, do their own thing, resist convention. Management consultancies entered companies, telling people to embrace chaos, over-turn hierarchy, be creative. It was all a great new way of making money.
These strategies are only sinister when they work. One of Apple's best campaigns included a vast black and white photograph of a young Miles Davis holding his trumpet, above their old slogan, "Think Different". What was so troubling about it was the photo was so beautiful. It tugged at one's desire to be like that. It made you want to buy an iMac. How dare they?
By contrast, the Information Revolution posters are like a suburban uncle who turns up to a fancy-dress party dressed as Rambo. Its website includes the cringe-inducing sub-headings "The Movement", "The Word on the Street", and "Join Us". Click on the latter and you find the cry "The Internet needs YOU! Fight the mind control! Don't worry you don't all have to take to the streets (you can if you want to, but we won't pay your bail - and we're happy with sofa-bound revolutionaries as well!)". Ouch.