A crashed Antonov transport plane at the centre of US and UN allegations of gunrunning into war-torn Darfur is visible on Google Earth.
The US State department yesterday announced specific measures against a Sudanese air-freight operation, the Azza Air Transport Company. The Sudanese air-cargo firm was "sanctioned under Executive Order 13400 for transferring small arms, ammunition and artillery to Sudanese government forces and Janjaweed militia in Darfur."
The Darfur region has been racked by conflict between government-backed Janjaweed Arab militias and local black-African inhabitants. The Janjaweed have frequently been accused of genocide, and are widely thought to have the backing of the Khartoum government.
A confidential UN report, leaked last month and now downloadable here (large Word document) says:
"The Government of the Sudan continues to ship both small arms and heavy weapons, ammunition and other military equipment into the Darfur states by air, specifically into the airports at El Geneina, Nyala and El Fasher. According to reliable sources, several cargo aircraft landed repeatedly at El Geneina airport in January and February 2007 reportedly to offload military equipment...On 24 February 2007, an Antonov AN-12 aircraft bearing registration number ST AQE flew from Khartoum to El Geneina airport, where it crashed shortly after 9am...that specific flight was operated by AZZA Transport...In addition to the passengers there were two D-22 type 122-mm artillery howitzers and 40 to 50 wooden boxes painted olive drab, suspected to contain arms and ammunition."
Well-known blogging war correspondent David Axe was watching the story and immediately looked up Geneina airport on Google Earth (See here [kmz]). Sure enough, the imagery seems to show a couple of damaged transports tipped over on their sides.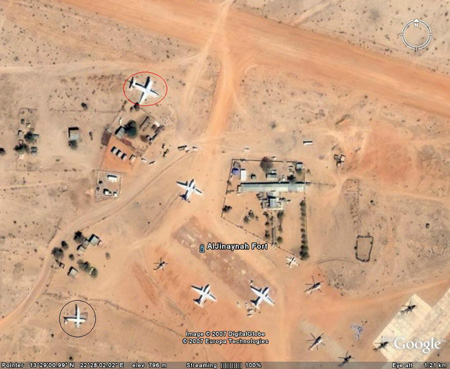 Google Earth overhead imagery of Geneina Airport with damaged planes marked
Axe seems to favour the bottom left one (circled in black on the snapshot), but we reckon it's the bigger job, up by the runway, circled in red. It looks as though the plane has been tipped over to lie with the damaged wing high. Compare with the closeup witness photo from the leaked UN report.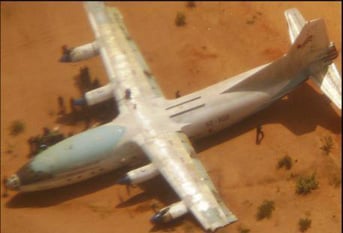 Witness photo of crashed arms transport from leaked UN report
It's always possible that the Google imagery shows a completely different plane, of course. But it seems likelier that the Sudanese government may join many others in requesting some Google fuzzing or blanking in future. Hopefully the don't-be-evil lads won't comply.
More from David Axe here. ®