Palm reveals 'secret' smartphone buddy
.25 pound device gets 2.5 pound accessory
Two years after hinting that Palm was designing a "new category of mobile device," co-founder Jeff Hawkins revealed the the big secret today at the All Things Digital conference.
Announced as "Palm's first smartphone companion product," the Foleo is sort of a smartphone and sort of of a laptop — but doesn't really have the functionality of either.
The Foleo is the size and shape of a very slim notebook computer (or reversely, a clown prop-sized PDA) with a 10-inch screen and full-sized keyboard. The device, however, is used mostly for smartphone functions such as viewing and editing email, office documents and other data.
Those concerned that smartphones are too small and portable computers are too functional can rest easy.
This new sublaptop is Linux-based with applications including e-mail and the Opera web browser. It also has programs to view or edit Word, Excel, PowerPoint documents and a Palm-developed PDF viewer. Data on the Foleo and its paired smartphone are synchronized via bluetooth throughout the day or with a button push. The device can use the smartphone's radio or the Foleo's built in WiFi receiver to connect to the internet. The device can't play video yet, but Hawkins said it will in the future.
Palm is also betting on developers to utilize the open-source OS to create new applications for the device.
Foleo has a USB port, video-out port, headphone jack, and slots for SD and compact flash cards for memory expansion. It's all solid-state, with no hard disk. This allows for instant on/off with no load time or sleep mode.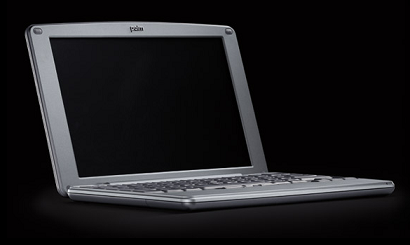 Behold, The Newton Foleo
The device is less than an inch thick and weighs a hefty 2.5 pounds, which Palm calls a "stylish design that fits on an airline tray table." The device is controlled with a Thinkpad-esque pointer, rather than a touch pad. Workable battery life clocks in at around five hours.
Hawkins — the man behind the Palm Pilot and the Treo — sees the new device as much needed relief for the blurry-eyed and meaty-handed.
"Foleo is the most exciting product I have ever worked on," Hawkins said. (Again, he worked on the Palm Pilot and Treo) "Smartphones will be the most prevalent personal computers on the planet, ultimately able to do everything that desktop computers can do. However, there are times when people need a large screen and full-size keyboard. As smartphones get smaller, this need increases. The Foleo completes the picture, creating a mobile-computing system that sets a new standard in simplicity."
Palm plans to introduce the Foleo this summer with a starting price of $499 after a $100 rebate. ®
Bootnote
Despite Palm's optimism, the Foleo sounds very similar to products that have already crashed and burned on the market. Hawking a box with extremely limited functionality for the price of a fully-fledged laptop has never been a huge winner.
3Com tried to "out-Palm Palm" with the Audrey back in 2001. That is, shortly before it gave everyone a refund when it axed the project.
So now Palm is working on out-Palming the Palm out-Palmers...
Let's try that again:
The whole thing sounds a little iffy.