Review There's HD and then there's full HD. While both will give you better pictures than normal TV, the latter offers a degree of future proofing by enabling you to take advantage of 1080p, the highest HD resolution currently in use. With both Blu-ray and HD DVD supporting it, you'll need a Full HD TV such as Sharp's LC37XD1E to experience the best high definition currently has to offer.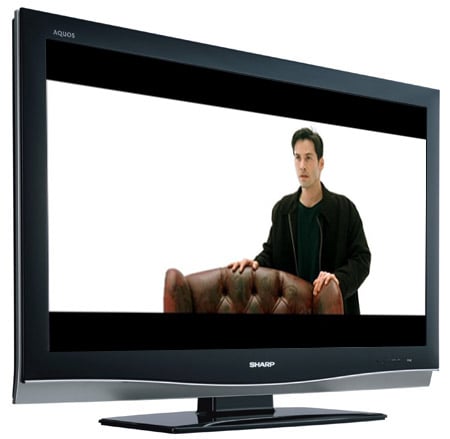 For Full HD, you need a panel with a native resolution of 1,920 x 1,080, which enables it to display the whole image from a 1080p source without having to downscale it. However, unless you sit really close to your TV, the increased resolution only really makes sense for sets bigger than 32in. The LC37XD1E has the required number of pixels to display 1080p and a screen size of 37in, making it a good companion for HD DVD or Blu-ray.
Stepping up from 720p to 1080p does make a difference - there's a noticeable increase in the level of detail, especially backgrounds or crowd scenes, and the image is crisper. However, it's not as great as the jump from standard definition to high definition. That said, if you've opted for HD DVD or Blu-ray, than it makes sense to go for a Full HD TV so you can take advantage of the additional resolution available. Explosion scenes in The Matrix did look stunning when viewed at 1080p.
The majority of your viewing schedule is still likely to be taken up with standard definition material. The LC37XD1E does the best it can with the signal, but there's no escaping the fact you're watching a low resolution source. Freeview images were sharp, but there were noticeable artefacts from the compression visible.
The Freeview EPG and menu also looked at little basic - with blocky text and very little styling. It feels bolted on when compared to the TVs main menu system which is much more polished.
Overall performance was very good, with realistic flesh tones and well defined colours. The large 176° viewing angle means you should be able to see a decent picture from most places in the room.
Sharp has included two HDMI interfaces - which is enough for now, but an extra one wouldn't have gone a miss for future proofing. Only one has an analogue audio input, useful if you're attaching a DVI source via an adapter.