This article is more than 1 year old
Royal Society unearths top secret nuclear research
Only 66 years late
75 years of the neutron In his long-awaited energy white paper, published this May, Tony Blair opined that energy could be "as important to our future as defence".
According to secret documents, sealed during World War II, and unearthed by the Royal Society this year, it was ever so.
The papers have lain forgotten on a shelf in the Royal Society's archives since 1941, only to be unsealed this week to coincide with the 75th anniversary of James Chadwick's discovery of the neutron.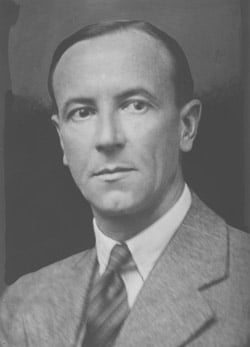 James Chadwick. Image credit: Godfrey Argent Studio
The sealed documents are scientific papers written by two physicists working in France in the late 1930s. They describe fundamental research into moderating the chain reaction in Uranium: research that was made possible in the first place by Chadwick's Nobel prize-winning discovery, and that paved the way for both nuclear reactors and the atomic bomb.
Keith Moore, head of the Royal Society's library and archives, describes the work as being on "the cutting edge" of nuclear energy research at the time.
He told us the papers were found by chance when someone noticed a 1940s style archive box gathering dust. When they opened it there was a letter signed by Chadwick attached to a series of envelopes sealed with red wax.
"We find old boxes like this quite often, but really the contents are usually pretty dull", Moore told us. "But we saw the Royal Society seals and realised we had something a bit unusual."
Piecing together the history, Moore says the two scientists, Hans von Halban (yes, he was actually German) and Lew Kowarski, most likely saw the writing on the wall in France. They moved themselves, their research, and their supply of heavy water over to Blighty.
They smuggled the entire global supply of deuterium (heavy water) across the channel, landing in Falmouth. The 26 steel drums they brought with them were sent to Wormwood scrubs, and then on to Windsor Castle Library.
The scientists joined the Cavendish Laboratory team and sent the work they had done in France to the British government. Eventually, the pair joined Tube Alloys, the British end of the Manhattan project based in Montreal.