Computex First Palm's Foleo, now Asus' Eee PC. Different names, but the concept's much the same: a highly compact laptop that focuses on mobile internet access rather than heavy duty personal computing.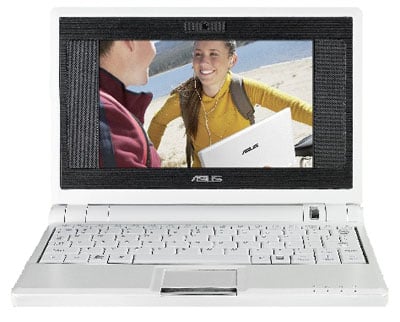 Asus' Eee PC 701: sub-sub-notebook
The Eee PC 701 - announced this week at the Computex show in Taipei - is built around a 7in display, laptop-like QWERTY keyboard and Intel's Ultra Mobile Platform chip technology.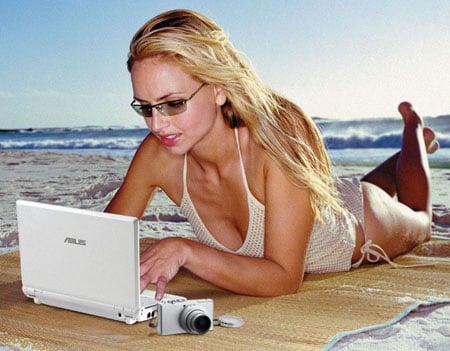 Asus' Eee PC 701: send pics from the beach... if you can find a hotspot
Asus said the sub-notebook will contain 512MB of memory and 4, 8 or 16GB of Flash storage. Whether that's for apps and OS as well as data isn't known. The 701's expected to run Linux or Windows, since you ask.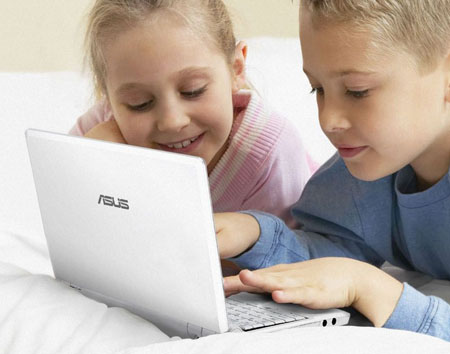 Asus' Eee PC 701: cheap enough for the kids to break with impunity...
It has 802.11b/g Wi-Fi and 100Mbps Ethernet for connectivity, along with a 0.3-megapixel camera, stereo speakers, microphone. There's even a VGA port, suggesting Asus has half a notion folk will hook it up to an external screen.
In short, the 701 is a small, low power PC rather than a unit tailor-made for low-level mobile computing and communications. Not that that's done anything for the machine's longevity - Asus quotes a mere three hours, so you don't get any more usage out of the 701 than you would a more powerful, larger laptop.
Still, it is smaller and more portable - 890g and dimensions of 22.5 x 16.5 x 2.1-3.5cm - providing the kind of internet access device you could take on holiday to stay in touch. The 2GB model's expected to retail for around $200 (£100/€148), the kind of price that might just make the 701 attractive as a take-anywhere adjunct to a user's main PC.
Similar topics