D-Link debuts 200Mbps mains networking pack
---
D-Link has packed a pair of its 200Mbps powerline Ethernet adaptors into a starter kit it hopes will make networking over mains power cables more attractive.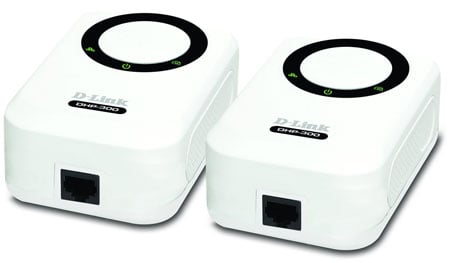 D-Link's DHP-301: ready for HD streaming over the mains
The DHP-301 PowerLine HD pack contains two adaptors, but it's easy to buy and add more to create an array of convenient high-speed network ports around your home or office where wireless networks can't reach.
D-Link's kit is based on Spanish chip maker DS2's powerline technology, which adheres to the Opera standard - rival to and incompatible with the HomePlug AV standard. That means there are a fair few 200Mbps powerline products the D-Links won't talk to, though they should connect to Netgear's HDX101 adaptor, reviewed here.
Neither standard delivers full 200Mbps performance - a theoretical maximum raw speed degraded in the real world by data transfer protocol and error correction information sent alongside the stuff you actually want to send. And that's before the quality of the wiring, noise and inevitable distance-related degradation come into play.
Our testing of similar products suggests a real-world throughput of over 40Mbps - enough for a pair of HD video streams.
Available now from D-Link suppliers the DHP-301 set costs £130.