This article is more than 1 year old
ITIL v3 is go
Best practice books by the yard
After three years gestation, the UK's Office of Government Commerce (OGC) yesterday gave birth to ITIL version 3. ITIL's friends promptly held a launch party in London to celebrate.
Once upon a time, ITIL was merely an acronym for the IT Infrastructure Library. But now it is a "brand" for IT service delivery and represents an internationally-accepted good practice framework for managing IT operations.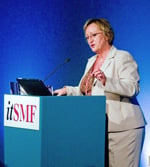 With Version 3, it is rather more than that: it is now based on a lifecycle model for delivering services to the business and its scope extends beyond Operations. (Perhaps it always did: now this is explicit.)
It was a pretty impressive launch - just what ITIL needs to get into the general business consciousness. And Sharon Taylor, chief architect, who's done a wonderful job herding cats on the project - the cats being the ITIL refresh authors - even got a bit emotional.
The launch was hosted by the itSMF , the IT Service Management Forum, and the disagreements between the various current and past stakeholders in ITIL, evident some six months ago, seem to have been resolved.
The theme of the launch was that ITIL v3 is a community effort: the authors were all present, obviously knew what they were talking about, and the whole thing is clearly synthesised from the experience of a range of informed practitioners – read more about the ITIL v3 launch here and about ITIL v3 itself here. It really is a great product and promises to integrate developers and operations staff behind IT Service Delivery.
But delivering on this promise will take hard work. As David Wheeldon of HP, one of the authors, said: "In the past it has been too easy for developers to say that 'ITIL is nothing to do with us'".
ITIL v3 makes it clear that this isn't the case - but I didn't see many dedicated developers at the launch. It is important that IT developers deliver business services, not just programs, these days. These should be designed from the first for operational manageability. ITIL is the framework to support this; but it pre-supposes a degree of organisational and management maturity; and also that ITIL is written in language that developers understand. I hope to get review copies of the ITIL books so as to assess this.
It would also be useful if mappings between ITIL and other development frameworks/process models were available – IBM, to mention just one vendor, has these but they are proprietary IBM intellectual property, it seems.
You'll be able to read more about ITIL Version 3 in Reg Developer soon – I think it's important for developers – but, for now, let us just bid it welcome. ®