Review The Optio M30 is a mid-level 7.1-megapixel compact digital camera, unveiled by Pentax at the beginning of this year. It features a 3x zoom lens, a 2.5in display and a maximum sensitivity of ISO 3200.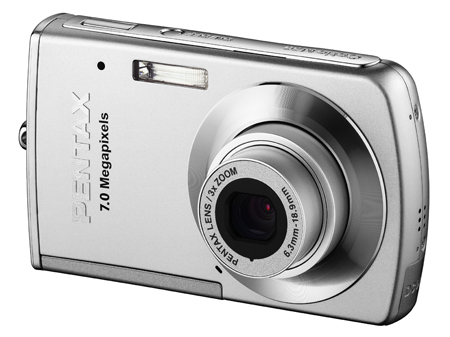 Weighing in at just 135g and measuring a minuscule 5.7 x 9.7 x 1.8cm, the Optio M30 is one of the leanest and lightest compact cameras of its kind currently on the market.
The casing is constructed from an attractive anodised aluminium with a chrome trim, that's easy to wipe the occasional filthy fingerprint from. The body of the camera flares out slightly at the right hand side and has a small 'textured' thumb grip with raised dot – much like Braille, that allow the device to be comfortably and firmly held.
The LCD monitor is 2.5in in size and supports a 115,000-pixel resolution, however, it does lack a non-reflective coating so to some, bright sunlight could present a problem with glare.
The M30 does, however, sport some features not found in similar models in the same category, such as the choice of manual focus, and adjustable contrast sharpness and saturation. In addition, the playback mode offers an interesting digital colour filter and numerous options, such as allowing the conversion of an image to black and white with the exception of a single colour for that ING Direct advert look.