This article is more than 1 year old
Atari's Portfolio: the world's first palmtop
18 years before Palm's Foleo...
The Portfolio measure 20 x 10 x 2.8cm, so it wasn't much smaller than the hefty ring-bound manual it and other computers of its era came with. The manual, like the on-board software and even the hardware itself, was created by DIP, which launched the Portfolio as the DIP Pocket PC not long before Atari licensed the technology and released it under the Atari brand, primarily in the US but in the UK too, where DIP continued to sell its own version.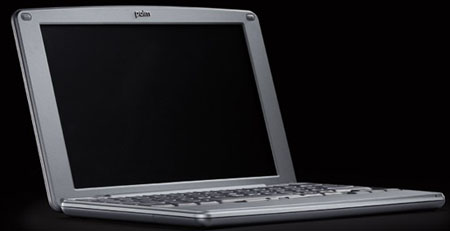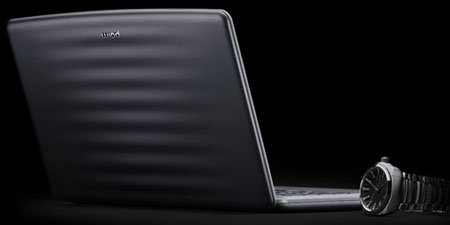 Palm's Foleo: palmtop de nos jours
DIP would go on to offer three versions of the Pocket PC: the unit on its own; an Executive version bundled with an AC adaptor and a 64KB memory card; and the Professional, which packaged the Pocket PC, a 128KB memory card, a serial adaptor and cable, and the AC adaptor in a custom-made briefcase.
DIP was co-founded by three ex-Psion employees, David Frodsham, Ian Cullimore and Peter Baldwin - their first-name initials providing the firm's name, though it got a more appropriate, business-friendly full name soon after.
Incidentally, the lid of the Foleo sports a dark grey ribbed look decidedly reminiscent of Psion Series 3 palmtop... Another nod by Jeff Hawkins to his new toy's ancestry?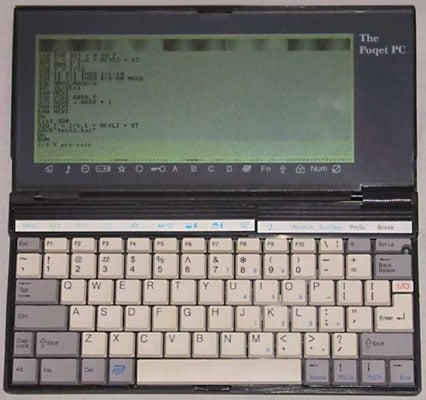 The Poqet PC: palmtop circa 1989
Cullimore, who had worked on Psion's original Organiser, would later go on to co-found Poqet, which produced the Poqet PC and shipped it in the US in September 1989, five months after Atari first showed off the Portfolio. Slightly larger than the Portfolio, the Poqet had a more PC-like keyboard, a 7MHz 80C88 processor and a full 640KB of memory. It ran MS-DOS 3.3. Poqet was acquired by Fujitsu in 1994, shortly after which the machine was killed off.
How long the Portfolio and Pocket PC lasted is less clear. Certainly it was doing a good trade in 1992 - DIP cut its prices, for instance - but with the launch of the Apple Newton MessagePad 100 in August 1993, the arrival of the Palm Pilot in April 1996 and Windows CE in September 1996, its days were numbered at that point.
More Forgotten Tech...
• 15 years ago: the first mass-produced GSM phone
• Compact Disc: 25 years old today
• From 1981: the World's first UMPC
• The IBM ThinkPad: 15 years old today
• Apple's first handheld: the Newton MessagePad
• 'Timna' - Intel's first system-on-a-chip
• BeOS: the Mac OS X might-have-been
• Sony's first Mylo