Group Test The desktop PC is a truly versatile animal, capable of running both our business and personal lives as well as entertaining us like nothing else since the television entered our world. Whether you want an all-encompassing budget marvel or a high-end gaming beast, there's a system out there to suit you. It's just a question of finding it...
Apple Mac Pro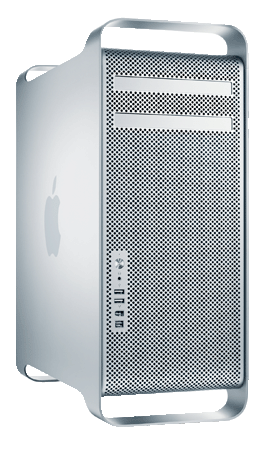 Apple continues its design for life ethos with the Mac Pro powerhouse. Long known as the preferred tool of the so-called 'creative', the Mac has always dominated the market where designers and design lovers have been concerned. And Apple's Mac Pro, replacing the Power Mac brand, only extends this domination thanks to its superlative design aesthetic, the inclusion of the latest Intel processors and a reasonable price point.
The Pro is all about choice, though. Whether you're a professional designer or a media-loving home user, Apple believes there is an option for you. Opt for the eight-core Pro and you get two quad-core Intel Xeon 'Clovertown' processors running at 3GHz, whereas the quad-core houses two dual-core Intel Xeon 'Woodcrest' processors running at anything from 2GHz to 3GHz - that's twice as fast as Apple's previous Power Mac G5 Quad. In its default configuration - at the £1699 price - there's a 250GB hard drive, 1GB of 667MHz DDR 2 ECC (Error Correcting Code) fully-buffered DIMM memory, 16x SuperDrive - DVD burner to you and me - and a pretty basic 256MB GeForce 7300 GT graphics card.
Even at this 'basic' spec, the Mac Pro is more than capable of delivering among the highest performance levels and speeds for everything from film and video editing in Final Cut Pro to 3D image rendering in Cinema 4D and page layout in QuarkXpress7. But as mentioned, the Pro is all about the upgrade. Internally, spare hard drive slots offer room for up to four Serial ATA hard drives and a huge 3TB of storage. Just below sit three open full-length PCI Express slots with configurable bandwidth and an optical drive bay for a second SuperDrive or Blu-ray Disc burner.
Connectivity abounds too with support for up to eight displays - great for heavy design applications where one screen just won't cut the mustard - five USB connectors, four Firewire ports, Ethernet and optional upgrades to Bluetooth 2.0 and Airport wireless networking. The Mac Pro is as dependable and exciting a PC as we've yet seen and typically ticks all the boxes from a style point of view.
Apple Mac Pro
---
Best for a designers
Apple continues to design stylish and powerful computers for the creative industry and the rest of us
Alienware Area 51 7500 SLI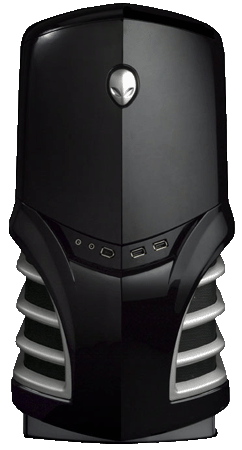 When confronted with a machine like Alienware's Area 51 7500 SLI, it's tough to know where to begin. Do you first comment on the now iconic alien-influenced design of its housing that stands it well apart from any rival manufacturer - and looks damn cool to boot, especially in 'Space Black'? Or do you launch straight into the fact that it packs quad-core processing with Intel's shiny new Core 2 Extreme chip and no less than two Nvidia GeForce 8800 GTX graphics cards for unrivalled 3D gaming?
Well, now we've mentioned these, we get down to the nitty gritty. The 8800 GTX SLI setup is the fastest graphics sub-system you can currently buy and is compatible with DirectX 10, the new API that works alongside Windows Vista to ramp up gaming performance immeasurably. Sweet.
The motherboard is an EVGA Nvidia nForce 680i SLI, with 2GB of Low Latency 800MHz DDR 2 memory and a 1TB, 7200rpm SATA hard drive. Also included is an 18x dual=layer DVD±R/RW Drive, the excellent Creative Sound Blaster X-Fi Xtreme Gamer sound card, and Logitech's MX518 gaming-grade optical mouse and supreme G15 gaming keyboard - complete with flip-up LCD panel displaying info like the time, memory utilisation and which song iTunes is currently playing.
In fact, the only thing you'll need is a serious high-resolution monitor and, if you're going all the way - which you might as well when you've invested in a system like this - some decent surround-sound speakers. The 7500 also benefits from full Blu-ray compatibility for playing back the latest HD films as well as offering superior media storage capacity.
As you'd expect with these kinds of stats, in operation the 7500 is as fast as it gets and kicks out the kind of graphics performance you have to see to truly appreciate. It will ably handle any game you want to play and, as long as you've married it to a winning display, will suck you in and never let go.
The only downside - apart from that hefty price tag - comes with the fan noise, which is undeniably loud. Sorry, LOUD. But with this kind of performance running from the graphics cards and CPU, if the fans weren't effective, you'd be left with little more than a pool of melted PC to play with.
Alienware Area 51 7500 SLI
---
Best for gaming
Alienware breaks out the quad-core processors to create the ultimate gaming experience