Fujitsu-Siemens Scaleo EV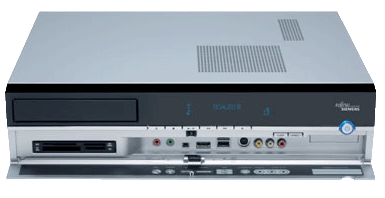 Looking more like a 1980s-styled video player than a home computer, Fujitsu-Siemens' Scaleo EV is designed for a life sitting under your TV as opposed to atop your office desk. Continuing on from the successful Scaleo E series, the EV is a media centre PC designed to operate as the central hub of your home entertainment setup, and as such offers control of your TV, DVDs, music, films, photos and radio via its single remote control.
Running Microsoft's Windows Vista Home Premium software and incorporating Intel's Viiv technology with a Core 2 Duo processor, the EV is ultra capable as both an office PC and home entertainment centre – but it's the latter we're most interested in. Housing a chunky 320GB hard disk drive, the Scaleo EV features analogue and digital TV tuners alongside a DVR so you can record one channel to the hard drive while watching another as well as pause and rewind TV, á la Sky+.
Also a DVD player and recorder, the EV supports 7.1 surround sound and HD audio to wring the very best from your films sonically, not to mention your music.
Crucially for an entertainment PC, the Scaleo EV is super-quiet thanks to the new housing and cooling system, its barely-there purr causing no distraction whatsoever to its multi-faceted talents. Connections are bountiful too, with HDMI for HD playback, dual Scarts for hooking up your standard-def TV, and 802.11b/g Wi-Fi.
It comes with a wireless keyboard with integrated touchpad for accessing more traditional PC applications like the internet and email via the TV. We like the Scaleo EV. It's a very capable and well thought out product designed specifically for living room use, but delivers ample PC capability too.
Fujitsu-Siemens Scaleo EV
---
Best for media
Ditch the DVD player, hi-fi, DVR and all those pesky remotes, because the Scaleo EV is here
Very PC Green PC 478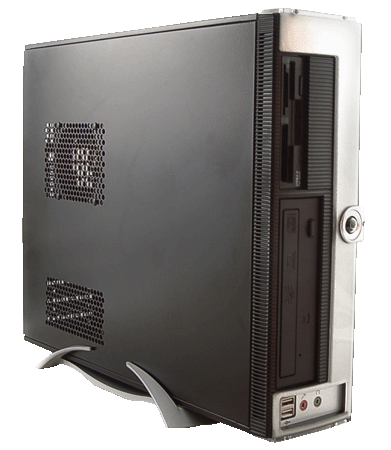 The Green PC 478 may look like an ordinary – and, to be honest, not very exciting – PC, but it has a few tricks up its black and silver sleeve. Very PC has designed this computer to run as energy efficiently as possible without sacrificing performance.
It does this by employing a low-power Intel Core 2 Duo T5500 processor running at 1.66GHz that was originally designed for notebooks. It also features a 100GB hard disk with 1GB RAM and a DVD writer with HDMI for HD output. Despite this, the PC 478 is super quiet, and runs using around 36W when on and 59W under full load – in some cases half that of most rival computers, which will result in lower energy bills and reduced environmental impact.
The PC 478 is smaller than most desktop PCs, making it viable as a living room computer. That HDMI port and the Dolby optical audio out make it capable as a home cinema, while the inclusion of a card reader means digital photos can be displayed too. Windows Vista Home Premium comes installed - or XP MCE or Linux if you prefer - for managing your media world.
Connections wise, there are six USB ports (two front, four rear), Firewire, and an HDMI-to-DVI cable takes the place of a direct DVI port. The smaller notebook processor is capable enough for running standard office and home applications on, but was left wanting with more demanding stuff like gaming. But it's a minor criticism against what isn't designed as a high-end machine. What the 478 does do is deliver the performance of rival PCs in the same price point, but at a lesser impact to your energy bills and the world around you. It may not offset the bountiful CO2 emissions created from its manufacture, but hey, every little helps.
Very PC Green PC 478
---
Best for environmentalists
Very PC tackles the eco issue with its energy-efficient green machine