Dell XPS M2010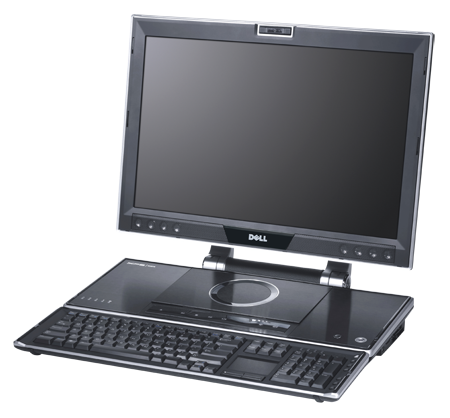 The first thing we thought when we saw Dell's frankly lunatic XPS M2010 was that it was just an oversized briefcase. But lay it down and unfasten the two clips holding it closed and it opens to reveal a mind-boggling PC the likes of which we've never seen before.
Inside that lid sits a whopping 20.1in 1680 x 1050 (WSXGA+) widescreen TFT display that's impressive enough in its own right. But cast your eyes down to the glossy black optical drive with its backlit ice-blue touch-sensitive controls and super smooth slot-loading DVD drive and then on to the Bluetooth-enabled detachable keyboard and you'll be utterly beguiled. Everyone we showed it to instinctively reached out with eager paws just to get a touch.
It's not all about the looks though - and at a price of £1879we're glad to hear it. The M2010 packs a serious operating punch, and housed in that body is a 1.3-megapixel webcam and, unbelievably, an 8.1 speaker setup complete with sub-woofer. Fully customisable, the M2010 is powered by a 2.33GHz Intel Core 2 Duo processor backed by up to 4GB of memory running any incarnation of Windows Vista you choose. Designed as a complete multimedia and entertainment solution, there's room for optional dual hard drives with a total capacity of 240GB of storage that can be configured to RAID 0 or 1 to protect all your family files. The AMD Mobility Radeon X1800 graphics chip is more than able to handle most multimedia applications and can run the latest PC games without breaking a sweat.
The hardest thing when describing the M2010 is explaining exactly who it's for. Powered by its own battery and folding into that enormous casing it's claimed to be portable, but weighing in at an arm-stretching 8.2kg you certainly wont be taking it on the daily commute. But if you are after a semi-portable and very powerful desktop system that oozes wow factor, you've come to the right place.
Dell XPS M2010
---
Best for concept
Dell breaks the mould and brings its ker-razy concept into the real world with fantastic results
Apple Mac Mini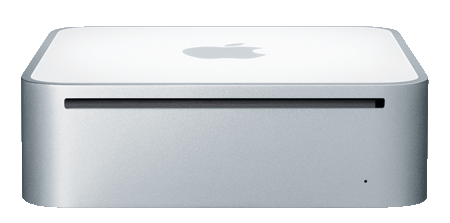 Ahh, the old Mac versus PC debate - the battle between the creative and the suit, the fashionista and the practical, the minority and the majority. But as the gulf between the two narrows Apple has sought to switch some PC loyalists to its side with the introduction of the Mac Mini in the wake of the iPod's boundless success.
Firstly, the Mini is exactly that - absolutely ruddy tiny. It weighs a feathery 1.4kg, at 16.3cm square fits easily into the palm of any normal-sized hand and comes en seule: no monitor, no keyboard, no mouse. The idea here being to keep the price way down and let new buyers use their old peripherals without needlessly forking out on new ones - or buy expensive Mac accessories. Smart move, Mr Jobs.
It has typically classy looks too. The Mini's exterior gives little away featuring a standard Mac disc slot rather than drawer and the power button and connections laid out cleanly on the rear.
Spec wise, the latest Mini comes in two incarnations: the first a 1.66GHz Core Duo CPU with 512MB RAM and a 60GB hard drive, the superior second a 1.83GHz Core Duo CPU with 512MB RAM and an 80GB hard drive, also featuring a SuperDrive DVD burner. Both come prepped with Bluetooth and Wi-Fi. Graphically, the Mini uses an integrated Intel GMA950 graphics processor, capable but by no means a high-end gaming specialist. Perhaps the real draw of the Mac is its inherent software. The Mini runs Mac OS X and comes with the brilliant iLife 06, a suite of easy-to-use applications designed to manage everything from photos and films to music and podcasts.
The Mini is a deliberately paired-down introduction to the world of Macs that benefits from a raft of add-on products that ramp up its price no end. But if you're looking to convert from PC or want a simple and sexy extra machine, you won't find better.
Apple Mac Mini
---
Best for minimalists
A no-frills introduction to the wonderful world of Macs
Sponsored: Ransomware has gone nuclear