Acer Aspire T671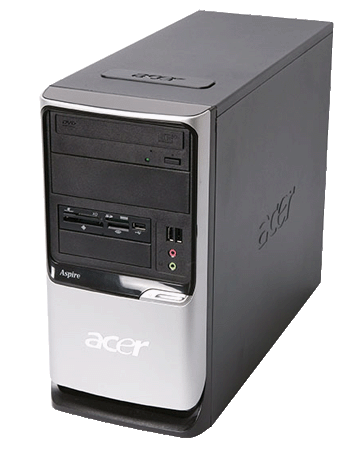 The Acer Aspire T671 is a system so cheap it requires a double take to check the price does indeed include the system's none-too-shoddy specifications. Designed from the bottom up to marry user-friendly pricing with competitive applications, it is aimed at the generic user and runs Windows Vista Home Premium. It's a fair-looking system offering a cleanly designed black and silver look in a bulky but well built body. Inside sits an Intel Core 2 Duo processor on an ATI RS600 chipset and connected to up to 4GB of 533MHz DDR 2 memory.
Storage is taken care of thanks to the 160GB SATA hard drive - with space for another should that capacity prove insufficent, which it likely won't should you engage in multimedia pursuits - and there's also a dual-layer DVD burner - again with a bay for another).
The integrated ATI Radeon XPress 1250 graphics core is pretty paltry and won't do serious gaming justice, but Acer has included a PCI Express 16x graphics expansion slot for an add-in, so you can always improve your gaming life at a later date.
The T671 comes without the usual bundled peripherals, so no monitor, printer, scanner et al.
Well-built, reliable and with plenty of room for upgrading and expansion, the Aspire T671 may not be the fastest or best spec'd machine available, but in its price point it's a great option.
Acer Aspire T671
---
Best for budget
Acer breaks the rules, but not the bank, with its budget PC
Mesh Elite E6600 Express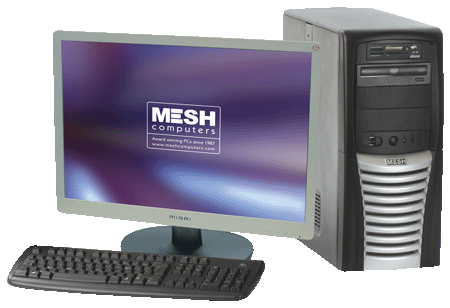 If you're simply looking to plunge into a computer purchase without the hassle of buying separate components and choosing which upgrades to opt for, this Mesh Elite Express is a great place to start.
Enclosed in a fairly traditional and utterly inoffensive black and silver casing - yet sporting a very bling silver radiator grille - sits an Intel Core 2 Duo E6600 dual-core processor running at 2.40GHz and supported by 2GB of 533MHz DDR 2 memory. Storage comes in the form of a 500GB SATA hard drive, alongside which sits a Sony 18x DVD writer, digital and analogue TV tuner card, and an Nvidia GeForce 8600 GT graphics card with 256MB of on-board memory. What this all essentially means is that in terms of multimedia use, gaming and file storage the Mesh is absolutely capable of taking care of your needs. From a software point of view the Express is loaded with Windows Vista Home Premium Edition, and has plenty of power and speed on tap to take full advantage of its many applications.
Connectivity poses no problems either with six USB ports, two Firewire connectors and a 33-in-1 card reader. But this computer is all about the package, and alongside the Mesh heart sits a very good 22in widescreen LCD screen, Logitech wireless keyboard and optical mouse, and a set of Creative T6100 5.1 speakers including a super punchy sub-woofer. These are supported by a Creative Sound Blaster X-Fi Xtreme Gamer sound card.
Mesh Elite E6600 Express
---
Best for the complete package
All aboard the Mesh Express – it's the complete package
Verdict
The ten PCs we have looked at here represent a huge cross-section of the computer market and as such offer varied functionality depending on specific needs and budgets. If you're looking for an imposing combo of power and potent design then the Alienware really should be your first and only port of call. For us, if money were no object we'd opt for the Dell XPS for its sheer bling factor, but in the real world give us an Apple Mac Pro and we're happy.
Sponsored: Ransomware has gone nuclear