HTC Touch Window Mobile 6 smart phone
Look but don't - despite the name - touch
---
Review Apple's iPhone: still unavailable but nonetheless casting an enormous shadow over the smart-phone business. How, rival manufacturers ask, can we possibly respond? If HTC's new flagship phone, the Windows Mobile 6-based Touch, is anything to go by, the answer is imitation, not innovation.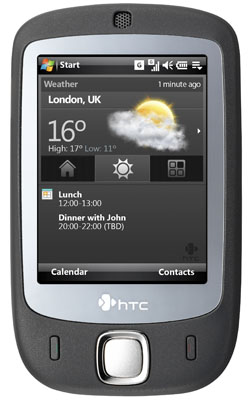 HTC's Touch: slick looks
You can easily imagine HTC's engineers eagerly examining the first iPhone pics and writing out a checklist of features to include in a rival product: touch control, snazzy user interface, fancy graphics and cool design.
Well, they go the last one right: the Touch is stylish. It's kitted out in rubber-feel matt black with a chrome-like, slightly concave band separating the front from the back. The latter is home to a two-megapixel camera ringed with with milled chrome and, nearby, a mesh-covered speaker.
Turning the Touch round - something its curvy, comfortable-to-hold casing makes you want to do again and again - there's the 2.8in, 240 x 320 touch-sensitive screen overlaid with a sheet of clear plastic that makes the display seem to fill the front of the phone. It doesn't, but it's amazing how this design trick makes the display look so much bigger than it is. The pictures don't do it justice.
Above the screen is the earpiece, again covered in a mesh grille that's cunningly placed so that the Bluetooth, WLAN and cellular indicator LEDs shine through as a series of parallel points of light - very cute.
Below the screen is a curvy square five-way navigator control equidistant between the widely space minimalist backlit call make and break keys. The Touch's other controls are fitted within the encircling chrome band: power key on top; camera button and the hatch for the SIM and Micro SD card slots on the right; mini USB and microphone on the base; and the volume control on the left.
Similar topics
Narrower topics