HTC Touch Window Mobile 6 smart phone
Look but don't - despite the name - touch
---
If you could see the Touch suspended within a display case, slowly rotating under spotlights, you'd be hooked immediately. It looks stunning. You want to touch it, you can't help yourself. And then you wish you hadn't.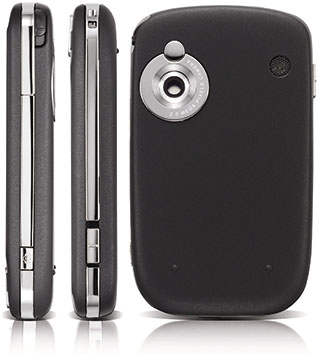 HTC's Touch: make sure you wear gloves...
We've never used a handset that's shows up fingerprints like this one does. By the time we'd taken the Touch out of its trying-too-hard packaging, inserted the battery and the bundled 1GB memory card, plugged it in to charge it up, and run through Windows Mobile 6's set-up screens, the Touch looked like we'd been using it for a month. The shiny sides show off fingerprints. The matt black casing really shows off fingerprints. And as for the screen, it really, really shows off fingerprints.
We have had this handset out of the box for less than an hour and it looks filthy. Yuk.
Now, it's easy enough to give the Touch a polish, but it doesn't take long before it needs another one. And since this a handset that's going to draw plenty of admiring looks - of that there's no question - it's going to need a lot of polishing. HTC doesn't include a rag in the box, though there is a screen protector, but that shows up fingermarks just as much as the screen does.
All of which is highly ironic given that this phone, as its name suggests, wants you to put your paws all over it.
Windows Mobile isn't particularly finger-friendly, but HTC's attempted to make it so with a couple of tweaks to the standard WM user interface. The first of these you encounter is the Touch's Home screen, essentially a custom skin for the regular Today display and a good one too. It's divided into three screens, each selected from icons in the middle of the screen: Home, Weather and Launcher. Select one and you get the relevant panel above the icons - below them sit Windows Mobile's usual upcoming appointments readout.
With the Home panel's big LED-esque time display and the Weather panel's anti-aliased, thousands-of-colours graphics, not to mention the overall look of the HTC Today screen, the iPhone's influence is clear to see, but it's no less attractive for that. And easy to use: the buttons are big enough for fat-thumb tapping, which takes you around the new UI and through to the standard Windows Mobile apps it links through to.
Similar topics
Narrower topics