HTC Touch Window Mobile 6 smart phone
Look but don't - despite the name - touch
---
The Launcher displays nine app-specific icons in a five by two grid, the last icon allowing you to delete pre-set icons. Remove any and they're replace by a plus sign which can be tapped to call up a list from which you can choose a new icon. It would be nice to have room for more apps and even a way of scaling the display to the number of icons you actually have in view, much like Mac OS X's Dock does, but HTC's Launcher is still a big, big improvement on Windows Mobile's teeny Start menu and the Programs window with its (still) jagged-edge, crude-looking icons.
Palm rightly likes to talk about how it's improved the standard Windows Mobile Today screen on its WM-based Treos, but HTC has shown it can do a much better job.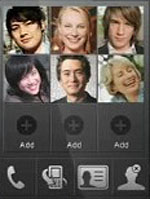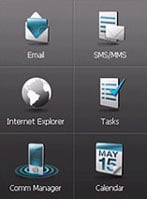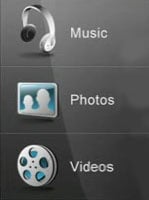 HTC's TouchCube UI: thumb-friendly access to people and apps
But HTC's TouchCube UI, the second of its Windows Mobile tweaks, is less successful. Described as a "three-dimensional, cubic user interface", TouchCube is activated by sliding a digit up the length of the screen starting at the HTC logo. It's said to be cubic because moving from one panel to the next is presented with a rotating cube effect pinched from Mac OS X's Fast User Switching feature, itself derived from Apple's Keynote presentation app. However, TouchCube only has three panels. We'll leave it to Register Hardware readers to email HTC and tell it how many sides a cube has...
The First panel presents a grid of nine spaces to add picture icons from your Contacts list, all arranged in a three by three grid above icons for the Phone and Contacts apps, along with another that lets you delete pictures, just as Launcher does with apps.
Moving your thumb left or right across the screen brings up the other panels. There's a media screen comprising three icons for Music, Photos and Videos, each calling up the appropriate Windows Mobile playback apps. The third screen presents six fixed icons for specific apps: Email, SMS/MMS, Internet Explorer, Tasks, Comm Manager and Calendar. Unlike Launcher, these icons can't be reassigned to other apps.
Dropping into Windows Mobile apps from TouchCube usually takes a couple of seconds, contributing to the Touch's rather sluggish feel. It has a 201MHz Texas Instruments OMAP850 processor which ought to be up for this kind of thing, and indeed it often is when you're just working in Windows Mobile. When you're done, you don't always exit back to TouchCube but to the HTC Today screen, and frankly this is where we suspect most Touch users will stay once they quickly tire of the TouchCube gimmick.
TouchFlo, HTC's touch-navigation system that underpins TouchCube, doesn't work with every app - you can't use it to thumb through Calendar day pages as you might a paper diary, for example - but it does allow you to pan and scroll through web pages, though Internet Explorer is initially set to display pages to the width of the screen. It also takes a while to get the hang of it - not helped by the need to flick your finger up along the screen to scroll down - but it's quite cute watching the page continue to slide by once you've let go, as if you were using a free-wheeling scroll wheel on a mouse.
Similar topics
Narrower topics