HTC Touch Window Mobile 6 smart phone
Look but don't - despite the name - touch
---
The Touch has 802.11b/g Wi-Fi connectivity, incidentally, but we had real problems connecting to the internet through Reg Hardware's access point - something that's not been an issue with HTC devices before. In short, it wouldn't stay connected. That said, we had no problem connecting to my access point at home. In any case, turning off Wi-Fi and falling back on GPRS allowed me to connect as I'd expect to.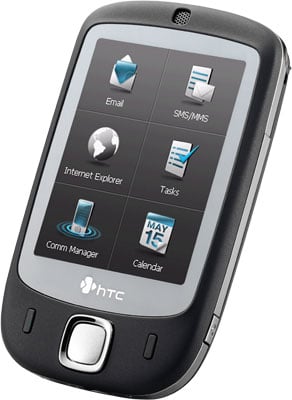 HTC's Touch: iPhone-esque graphics
The trouble with all this TouchFlo stuff is that it's only skin deep. Even LG's Prada phone has a UI that feels designed for touch control and not tacked on to another OS. Too soon you drop into the standard, ugly-by-comparison Windows Mobile 6 look and feel.
Pull out the stylus - yes, HTC still can't get rid of it - and the Touch is a decent, very compact Windows Mobile tablet-format phone. In fact, we found ourselves naturally grabbing the stylus and tapping away at WM's tiny links, alphanumeric pad and other UI elements that are just too small to hit reliably with fingers.
The Touch can be snapped up for around £350/$600, which isn't a bad price for a decent WM smart phone, particularly given there's that 1GB Micro SD card in the box and a reasonable set of earphones - which terminate, incidentally, in a tweaked mini-USB connector; there's no 3.5mm socket on the Touch. Once the card is in, it's almost impossible to get out, we found - no amount of prodding with the stylus - it's not just for text entry, you know - would get it to spring out.
The slot cover is almost as hard to open: unless you have girly long nails, you'll need to remove the Touch's back cover and pull the cover out by grabbing it near one of the hinges. To be fair to HTC, though, this isn't uncommon with small form-factor phones.
Call quality was good, so we've no complaints there. But the unit's battery life was nothing to write home about. HTC quotes five hours' talk time, but I'd say you're looking at charging the handset up overnight every night if you want to get the most out of the phone.
And the camera's rubbish. It may have a two-megapixel resolution, but shots are full of colour artefacts and look like they've undergone far too high a level of JPEG compression, so much so that they look like they were taken on a lower-resolution camera.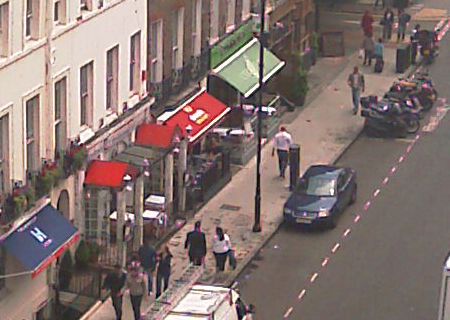 Sample shot at 100% size, cropped - click for full-size version
Verdict
What a disappointment. HTC's Touch is undeniably a smart-looking phone, but while it's a stunner in pictures, in your hands it quickly becomes a fingerprint-plastered mess. Yes, it offers some neat touch-control improvements on the standard Windows Mobile 6 user interface, but for all the fancy visuals, it's no iPhone.

HTC Touch Window Mobile 6 smart phone
Priomising plenty, delivering little, HTC's Touch isn't going to cause Steve Jobs to lose sleep...
Price:
£350/$600 SIM-free RRP
Similar topics
Narrower topics