Users attacked by mysterious AIM buddies
AOL denies then claims responsibility
Updated This afternoon, someone was surreptitiously adding unauthorized chat buddies to AOL instant messaging clients running across the Web.
Three separate Register employees noticed the offending buddies, which show up under the "AIM Bots" portion of the AOL buddy list, carrying the names "Prof Gilzot," "sharethisdotcom," "Spleak," and "WSJ." In one instance, they appeared on a third-party Adium client that ties into AOL's instant messaging network.
This seemed to indicate AOL was responsible for the bizarre occurrence, but when we first contacted the company, it denied any involvement. "These buddies just automatically appeared?" asked AOL's AIM spokesperson Erin Gifford. "My client has not done that."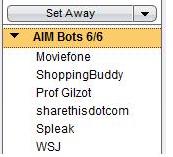 Mysterious AIM buddies
However, a recent blog post indicated that the bots were indeed added by AOL (thanks to reader Rob for the tip), and this afternoon, Gifford called back to claim responsibility. "These new bots are primarily for new users," she says. "But if you still have the AIM bots group on your buddy list...these five new bots will be added to your client."
The AIM Bots group typically includes automated buddies that respond to questions and comments from users. At installation, the latest AIM client installs two such bots, one attached to AOL's Moviefone site and one attached to the company's Shopping site. The four new bots tie into other services, including the Wall Street Journal Web site.
Those using Adium, and perhaps other clients, will find the new "buddies" grouped with typical contacts rather than listed as bots. One of our hacks was shocked to find the robot chums, thinking his IM client had been hacked or taken over by another user.
At the very least, AOL should be notifying users that these buddies are being added. And it seems odd that the company hadn't told its PR people about the bots - let alone the press. After all, the Wall Street Journal is a major partner.®