Review Micro SD memory cards are tiny - less than a ¼ of the size of a regular SD card and ½ as thick - but to date, their storage capacity has remained fairly small too. The SDHC - SD High Capacity - specification is about to change that, as it has with regular SD cards...and Register Hardware this week received one of the first Micro SDHC cards: a 4GB sliver from SanDisk.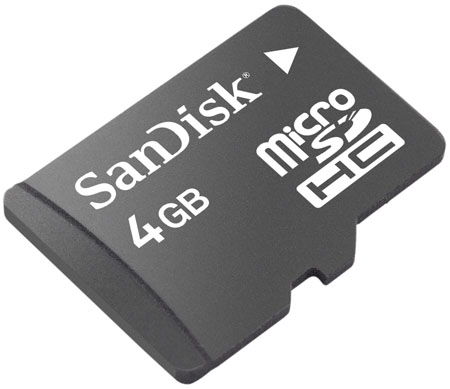 SanDisk's 4GB Micro SD card: NOT actual size...
SDHC boosts card capacity by allowing cards of greater capacity than 2GB, starting at 4GB. Regular SD cards use the FAT16 file system, but SDHC uses FAT32 to boost the range of memory addresses it can access and so store. Micro SD versions work the same way.
The snag: you need a compatible device to use a higher capacity card, and right now few do. Nokia's N95 mulitmedia phone - reviewed here - is one, and when we tried the two together, the phone easily recognised the SanDisk Micro SDHC card's full capacity. Other, non-SDHC aware devices just ignored it.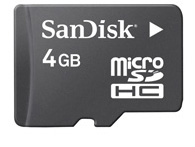 SanDisk's 4GB Micro SD card: still not actual size...
SanDisk's Micro SDHC is rated a Class 2 device - not that you'll see this mentioned on the card itself, as SanDisk isn't keen in this rating - which means its capable of a minimum guaranteed data transfer rate of 2MBps. The SDHC spec also includes Class 4 and Class 6 - respectively delivering at least 4MBps and 6MBps.


SanDisk's 4GB Micro SD card: approximately actual size
SanDisk supplied the card with an SD-sized adaptor, so we were able to slot it into a USB 2.0 card reader and copy over some files - a hundred 10MB documents in a folder - copying it first to the drive, then duplicating the folder, then reading it back. Incidentally, retail units will also come with a USB adaptor.