Evergrid has become awfully ambitious since we checked in with the start-up at the end of last year.
Six months back, Evergrid would only discuss the Availability Management Suite (AvS) - a set of software tools that helped keep batch jobs up and running on Linux HPC (high performance computing) clusters. That particular Evergrid package ran numerous checkpoints, monitoring the state of servers and applications. When hit a with a system failure, a cluster would turn to Evergrid for the last known, healthy checkpoint and fire up at the job mid-process rather than starting from the beginning.
Great, useful stuff.
But, rather than wasting away in the batch kingdom, Evergrid has decided that it would like to go ahead and manage your entire data center. And when they say "entire," they mean it.
The first step in this direction comes via the new Cluster Availability Management Suite package rolled out this week by Evergrid. Those of you fond of acronyms will like to know that CAMS plugs into AvS.
With CAMS, customers receive a package than can handle all the cluster basics, stretching from turning systems on and off to distributing applications and load balancing. Then, of course, you get the AvS check pointing features as well to make sure your application runs smoothly on a cluster despite periodic failures.
As the company explains it,
Evergrid provides transparent fault tolerance using an OS abstraction layer that loads between the operating system (OS) and the application. Without modifying either the application or the operating system, CAMS/AvS periodically captures the collective state of the application across the entire infrastructure while the application continues processing. By recording the state of an application and all of the OS and system state, Evergrid is able to checkpoint and resume from failures or interruptions rapidly with minimal overhead. Even failure of multiple servers or of software systems does not stop an application from being able to resume processing from a checkpoint.
Evergrid sells this software on a per socket per year basis. The package, including the licenses, maintenance and support, runs from the low thousands of dollars per socket to the mid-100s of dollars in high volumes, said Evergrid CEO Dave Anderson.
The CAMS and AvS pairing may seem impressive, but it's nothing compared to what Evergrid has in store for later this year.
In the late third quarter or early fourth quarter, the company plans to show off Data Center Resource Manager (DCRM) - a product that allegedly replaces just about every other virtualization management package out there.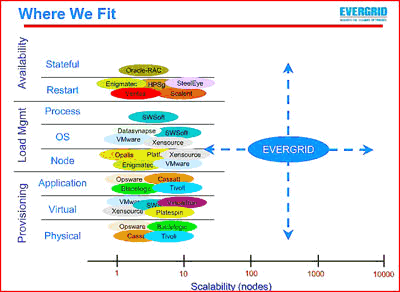 All roads lead to Evergrid
As you can see from this graphic, Evergrid hopes to put itself at the top of the server management food chain, replacing the likes of, um, Veritas (Symantec), VMware, Tivoli, Oracle RAC, SteelEye, Enigmatec, Cassatt, Scalent, SWsoft, Datasynapse, XenSource, Opsware, Bladelogic, VirtualIron, Platform Computing, and Opalis. That's a result of DCRM handling almost every aspect of server management from turning boxes on to creating automated systems for application and virtual machine management.
"It is ambitious, but it is also the case that taking a vertical approach gives us a big advantage over people who are just trying to manage one layer of the computing stack," Anderson said.
Quite frankly, we gave up on trying to discern just how far a given virtualization vendor's wares stretch three years back. Almost every vendor promises the world and wants to own your data center. At the same time, we've yet to run across any vendor that can really pull this off.
Evergrid claims some advantages over the competition in that it requires no software changes and has no performance overhead, according to Anderson. In addition, the company's original check pointing technology gives it a nice high availability play.
The start-up's claims prove tough to judge since it seems to cite the University of Oklahoma over and over again as its main customer, while being reluctant to disclose many more paying clients.
"We have been developing this with a very large Wall Street firm as well that is not ready to go public yet," Anderson said. "They have tested this every way from Sunday and will go into production later this year."
As many of you know, pointing to an unnamed Wall Street customer is step 20 in any decent start-up marketing manual.
So, we'll not churn out too much virtual ink on DCRM before it ships. Until then, you can find more on CAMS here. ®
Similar topics