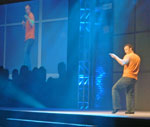 RSDC
IBM's upcoming acquisition of Telelogic (read more here) merited a break-out teleconference at the company's Rational Software Development Conference (RSDC). Danny Sabbah, general manager for IBM Rational Software, led the session.
Telelogic's technologies, which will become part of Rational, define, model, build, test, deliver and govern the development of software used in complex and embedded systems such as aircraft radar or a car's anti-lock braking system. "From today's next generation entertainment devices to tomorrow's space-information systems, software is the lifeblood of complex systems," said Sabbah in an official statement.
Rather more colourfully, he steadfastly stated to a small press gathering, "IBM is increasingly relying on software as an engine for growth. IBM anticipates that by 2010 we expect half of total profit to come from software and we are progressively pursuing technologies beyond the traditional software space – so IBM is targeting more complex systems such as embedded systems." As to whether Telelogic's highly respected Doors product could replace Rational Requisite Pro, IBM execs were keeping tight lipped. However, it's fair to point out that IBM has recently enhanced Requisite Pro requirements management.
IBM also announced its intention to acquire Watchfire to bring additional quality management expertise to its technology stack. Watchfire technology will help reduce remediation costs so that quality management abilities are brought into play during the build process before you move to a live production environment.
Rational Tester for SOA Quality will also help expedite the process of quality management. Both technologies rely on reporting functions that allow development teams to understand the dynamic of the production environment, thus allowing bottlenecks to be identified earlier on, so they can be addressed more cheaply. Process and portfolio management has also been re-addressed with respect to asset-based development, globally distributed teams and CMMI compliance support.
It was hard to leave RSDC without a relatively upbeat sense of the goings on in IBM. As well as a 20 per cent rise in software engineer attendees, this year saw a 43 per cent growth in the number of companies that have partner-sponsored the proceedings, a suggestion then that the rest of the industry believes in IBM Rational's vision. Or, at least, that IBM's competitors want a part of it for themselves. ®