DARPA scramjet nudges Mach 10
Successful Oz launch of HyCAUSE
---
Australia's Woomera Test Facility last Friday hosted the successful launch and firing of a scramjet engine which reached speeds of "up to Mach 10", the country's Defence Science and Technology Organisation (DSTO) has announced.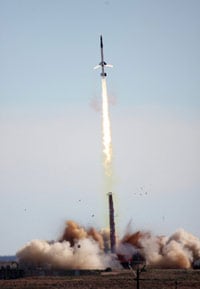 The HyCAUSE vehicle - a joint project between DSTO, the US's Defense Advanced Research Projects Agency (DARPA), and the Australian Hypersonics Initiative (AHI)- took off atop a TALOS rocket and reached a heady 530km before firing its way to around 11,000km/h (6,800mph), according to Oz's parliamentary secretary to the Minister for Defence, Peter Lindsay.
Lindsay trumpeted: "This research is a major boost to Australian and international scramjet technology research. Australia is a world leader in hypersonics research."
DARPA's deputy director of the Tactical Technology Office, Dr Steven Walker, said: "This test has obtained the first ever flight data on the inward-turning scramjet* engine design. DARPA will compare this flight data to ground test data measured on the same engine configuration in the US. We are pleased with this joint effort between the US and Australia and believe that a hypersonic airplane could be a reality in the not too distant future."
DSTO boffin Dr Warren Harch explained that "hypersonic propulsion using supersonic combustion ramjet (scramjet) technology offered the possibility of very high speeds and fuel efficiencies". He added: "This technology has the potential to put numerous defence and civilian aerospace applications within our reach during the next couple of decades."
The principal advantage of the scramjet is that it contains relatively few moving parts. To qualify for the scramjet title, the engine must mix atmospheric air with fuel (hydrogen) and ignite it while flow throughout the engine remains at supersonic speeds.
This last requisite points to the scramjet's main disadvantage - it has to be going pretty fast before it can be fired up, meaning it has to be brought to operational speed by, for example, a good old-fashioned rocket.
The latest test of the tech follows last year's acceleration of a HyShot III scramjet to an estimated 9,000km/h (5,600mph) as part of a joint project with the UK's Qinetic.
DSTO last year signed the AU$74m "Hypersonics International Flight Research Experimentation (HiFire) Agreement" with the United States Air Force, which will see 10 "hypersonic flight experiments" at Woomera over the next five years. ®
Bootnote
*The difference between an inward-turning scramjet and, for example, NASA's X-43, is that the latter has a box-shaped combustion chamber in which "the large surface areas created by rectangular designs generate tremendous heat transfer into a vehicle, requiring extra fuel loads just to cool areas around the engine chamber", as DefenceTalk puts it.
The former boasts a funnel-shaped combustion chamber "where air comes in through a circular opening, increases in pressure as it passes through, then leaves with more thrust and less heating than through a rectangular design".